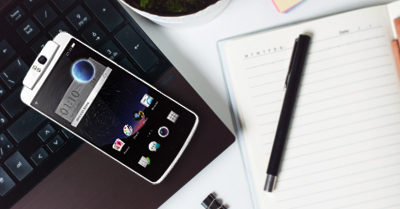 The Oppo Device as a Reliable Shooter Phone
Before Chinese brand Oppo started to focus their resources into mobile devices, the Chinese group first mastered the production of other consumer electronic devices, like sound equipment, TVs and media players. It took time and it took resources, but the relative success they got on their devices allowed the brand to expand its efforts in making their smartphones. Today, the group's mobile devices are making quite an impact on the Asian market, specifically selling well in the Southeast Asian countries and making their products available on vast online shopping sites
While majority of the high end smartphone companies out there focus on phone specs like RAM and IPS display, Oppo tries their hand on changing the look and function of the mobile device. Their devices aren't the thinnest out there, but the uniqueness can be seen first-hand. The brand's impressive HD camera feature is enhanced even more with a large CMOS and rotating shooter lens that allow you to take selfies and rear camera photos with the same resolution.
The Oppo Phone Heads Innovation with the Color OS
One defining feature the Oppo phone has among other phones is its unique phone operating system. Oppo's Color OS takes the user-friendly and effective features of the Android OS and upgrades them to better suit the Full-HD design of the Chinese brand. Aside from the enhanced color design and visuals, the exclusive OS also include active organization of apps, more smartphone themes, and touch gesture sensitivity even if the screen is off. With Oppo going toward a similar direction as the world-renowned smartphone companies, Oppo may experience a solid fan following in a short time.
Why choose Oppo?
Oppo has a very powerful phone camera, often shooting HD photos from a rotating shutter
Call and text functions are improved with the dualSIM capability
Apps are also user-friendly. Some of them can keep the longevity of the phone's features
Oppo also makes phone accessories that can protect the mobile phone. and improve its overall usage

Oppo Flagship Phones

Oppo Find 7a: The brand's first flagship is built to be a timeless device. Running the Color OS based on Android 4.3, this handy smartphone sports a powerful 13MP camera, able to shoot Ultra-HD stills on a very impressive 1080p display
Oppo N3: This gorgeous flagship mobile incorporates a 16MP rotating camera that functions both a rear and front shooter. Record Full-HD videos with this phone camera and stream them on its Ultra-HD touchscreen
Oppo R5: This slim smartphone is literally one cool device; the phones' hardware are protected by composite materials that absorb heat. The phone also sports an AMOLED touchscreen that can stream 1080p video content on a 5.2-inch display
Oppo Mid-range Phones

Oppo Find 5: While this 4.7-inch phone is now marketed as a midrange device, this previous flagship sports all the right tools to compete with other local brands. Sporting the brand's trademark Color OS, the device can run colorful features through its 1.3GHz quad-core processor and 1GB RAM.
Oppo Joy: This reliable start-up can help you get into the Oppo phone craze easily. The smartphone is quite basic, but is improved by the Color OS system and expandable 4GB RAM.
Oppo Yoyo: The smart business phone on a budget. The Oppo Yoyo is very reliable and highly connective, allowing you transfer files easily through USB-OTG connectivity, and HotKnot Screen Transfer capability. Outside file transferring, the phone also comes with an Off-screen gesture function.