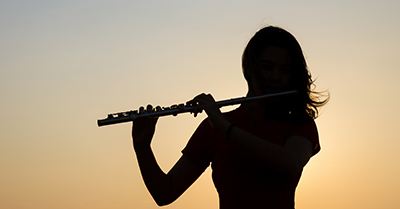 Get The Best Woodwind Instrument For You
Woodwind instruments are some of the most diverse instrument groups in the orchestra. They provide an ethereal sound that is reminiscent of flighty winged creatures and tall, sturdy trees. These instruments can play high and low notes, depending on the size and the type. These are notable tube-like instruments with multiple holes lined up on top. They are appropriately called "woodwind" because most were traditionally made out of wood, and they are played by blowing wind through the mouthpiece. Nowadays, many models are available in plastic and metal because they are stronger and last longer. Larger instruments have metal keys that cover the holes, and can be opened with the press of a button. Smaller ones usually require the player to firmly press a finger over the holes.
Popular Kinds of Woodwind Instruments
The flute is one of the most popular woodwind instruments around, and is often used in the orchestra and jazz music. Flute recorders are plastic end-blown flutes that are fairly inexpensive, easy to play, and taught in school. The clarinet is a popular single reed instrument used in classical, jazz, and big band music. The oboe is a high-pitched double reed that produces a unique and strong sound. The saxophone is a hybrid because it is made out of brass but makes use of wind to be played. These instruments can often be found in orchestra ensembles, but they can also be used in other forms of popular music such as jazz, marching bands, big band, and blues. Customers can get the latest woodwind instruments by heading over to their trusted online shopping website.

Flute Instruments

Overview: This type of woodwind produces a sound by blowing air into or across the edge of the mouth piece.
Open Flutes: This type of flute has a sharp edge that splits the airstream. The air column inside the flute then vibrates and produces sound. Examples of these are panpipes and ocarinas.
Closed Flutes: A flute like this has a duct into which the air must be directed. It channels the air to a sharp edge and splits it, causing the air inside to vibrate and produce sounds. Flute recorders ad organ pipes are examples of this.
Reed Instruments

Overview: This kind of instrument is aptly called such because the player directs their air into the mouthpiece, causing a reed or reeds to vibrate.
Single Reed: This type has one reed on the opening of the mouthpiece. It vibrates and produces a unique sound when air is forced between it and the mouthpiece.
Double Reed: This kind of reed instrument has two small pieces of cane joined together at the base. The exposed double reed is placed directly between the lips, while the capped double reed is covered by a cap with a hole, through which the player directs the air. This family includes oboes, bassoons, and bagpipes.