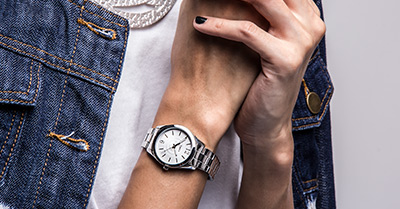 Casual Watches for Women in Philippines
It is very stylish to look at a lady who can pull off a simple dress, or shirt and jeans and still look modest and elegant with just a piece of ladies' accessories like a simple watch. No matter how simple your clothes are, it is very easy to look classy with trendy casual watches to put an accent to the laid-back style of your clothes. There are lots of simple yet fashionable timepiece available in the Philippine market, and picking your own can be based on the material, brand, and style of your choice.
Quality Watches for Women
Picking a watch depending on the movement, whether Japan or Quartz can be a major factor, but is definitely not a problem, as there are different brands which offer these units. The face, whether analog or digital will be a lot easy as the preference will only depend on the use. The water and shock resistance is also a big factor in selecting the perfect unit which will fit the lifestyle and fashion sense.
Watches are very versatile accessories and you can definitely alternate them from day to day, so you can opt to have one for your casual look and another one for formal gatherings. So what are you waiting for? Avail of the best casual timepiece from the product listing of the leading online shop and have the items delivered right at your doorstep.

Casual Watches

Strap Materials: The casual watches are available in different straps like silicon, leather, stainless steel, and rubber
Type: These watches are available in digital, analog, or combination
Uses: This kind of watch is easy to match with whatever type of get-up you have.
Brands: There are several brands that offer casual watches for women namely Casio, Bluelans, Geneva, and Seiko
Fashion Watches

Strap Materials: The ladies' fashion watches are available in different straps like leather, and stainless steel
Type: These units are usually analog type of ladies watches
Uses: This kind of watch is easy to match with smart casual dress or casual shirt and pants
Brands: There are several brands that offer fashionable watches for women: Michael Kors, Geneva, Guess, and Marc Jacobs