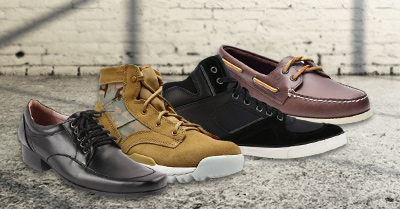 All Kinds of Men's Shoes
Most people often associate fashion with women, but men also have their fashion needs – from clothes, down to the shoes they wear. Most men today value their appearance, choosing the best attire to wear every single day. In terms of shoes, there are many types of shoes that men can choose from. There are casual shoes, sneakers, boots, as well as shoes for formal events. These types come in many different styles, so there is definitely a variety that men can choose from. These shoes are also available in several designs and colors so they can select their favorite hue for each model.
Most men are very picky when choosing their shoes. As much as possible, they want to have the most unique pair possible. The footwear should also suit the occasion, or activity that they are attending – whether for sports, walks, or formal events. It is quite hard to choose a pair of shoes for men. When it comes to design alone, it would always go down on how smooth the design is, and how suave it is when it is worn in public.
Men's Shoes for Everyday Use
There are many shoe brands that cater to men. You can choose from: Nike, K-Swiss and New Balance, down to Jump Sneakers, 361 Degrees, and many more. Sneakers offer unbelievable comfort and versatility. They are made with high quality materials such as genuine leather, synthetic leather, suede, mesh, PVC, patent leather, canvas, etc. These are the type of footwear that you can wear with any casual wear. Choose the sneakers that are timeless, and would never go out of style. There are also other types of shoes that you can definitely select from such as men's boots, and of course, leather formal shoes that are must-haves for every shoe rack. It doesn't matter if you would rather dress in a timeless outfit, or if you are up-to-date with the latest trends, there is definitely a proper pair of shoes that will look good on you.

Flat shoes

Slip-ons: This kind of shoes is easy to wear and relatively much cheaper among other shoes perfect as your everyday shoes. This comes in different colors and designs.
Espadrilles: This king of shoes are comfortable to wear. Aside from that it is compatible with your jeans and casual wear.
Boat Shoes: Boat shoes are popular among men and women commonly made from leather or canvas, which are trendy to wear whether for casual or for smart casual events
Sporty lace-up: This kind of shoes is perfect for sports and fitness, such as basketball, soccer, tennis, etc.
Sneakers

High Cut: High cut sneakers are mostly athletic shoes that protects the ankle from injury. However, high top shoes are also now made for everyday shoes. Can be perfectly paired with jeans.
Low Cut: One of the most common sneakers are the low cut style as they are used in casual wear and everyday use too. These are made stylish and functional.
Skate Shoes: Skate shoes are really made for skateboarding; however, due to its uniqueness and stylish designs it is now also worn for fashion purposes. As a shoe made for activity you can be sure that they are made durable.
Boots

Lace-up Boots: Boots are highly durable compare to casual shoes. Lace-up shoes are commonly made from leather and other durable products that are commonly used for industrial work, which protect the feet of the worker; however, since it is also classy to wear too, lace-up boots are also worn for fashion purposes.
Ankle Boots: Compare to classic boots, ankle booths are relatively smaller in height. Usually made from leather, this type is also great to complete your outfit.
Rain Boots: The true nature of footwear is to protect, rain boots are fully functional in the times of rainy season.
Formal Shoes

Loafers: Loafers capture the heart of many generation. Men are into loafers they are perfect for formal and semi-formal even that truly makes a man fashionably lovable.
Derbys: This highly formal shoes are made from leather you can wear to all formal events or place you are going. With similar looks with the Oxford shoes; however, the difference with derbys' is it has open lacing for construction method.
Oxford: Oxford are all known by most men who are into shoes. This type of shoes provides a formal upgrade to your outfit, when you are in formal event or business meeting. Anyway, contrast to derbys shoes, Oxfords have closed lacing.
Business shoes: Dress to impress with business shoes. This shoes are usually made of leather. Typically comes in dark colors.