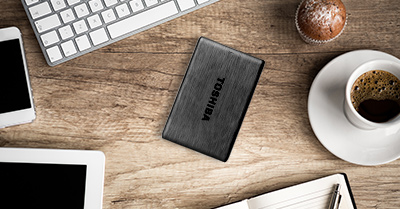 Storage Expanded through the External Hard Drive
If you have been using a computer for quite some time, you may have experienced storage overload on your PC or laptop, filling up your PC storage with a lot of files that you both want and need. This is the exact scenario why the external hard drive is first produced and marketed for public use. Almost all PC users rely on this device to effectively expand the space where they can save their documents, files, and media entertainment. It's simple connectivity is also a plus, since most hard drives use USB connectivity to let people access the files in their PC. With the great advantages that the device has brought people, the question is not whether you should buy one, but which should you pick out of the multiple external hard drives in the Philippines.
Get an Appropriate External Hard Drive Price in the Philippines
The external hard drive is one of the more common forms of memory expansion for computers and laptops. These storage devices have lots of capacities, with the basic external hard drive having 1TB of external storage. Aside from this, some hard drives come with programs that enhance transfer speeds, and also protect the stored files from malware and crashing. Some external drives are made to be portable and easy to carry, sporting durable casings and armor to protect them. And of course, the external hard drive is made to store all your files. You can go and learn more about the different external devices that many groups can make, and choose the right devices that you can be comfortable using with your PC.

Portable External Hard Drive

Overview: The first and the more common forms of the external hard drive, this portable device brings expansive memory and storage on a portable device.
Usage: The external hard drive uses the storage technology found inside PCs, and puts them on a portable and durable form-factor, which you can access through the USB.
Other features: In terms of functionality, this device has the same functions as the standard hard disk drive, complete with the spinning and mechanical components that activates when power is put through it (USB electricity) This allows for file transferring to take place.
Desktop External Hard Drive

Overview: If you are the type of person who stays home, but also wants a much larger storage capacity in your device, you could get the more pricy and stationary desktop external hard drive.
Usage: Most people think that the this larger hard drive is used solely for desktop computers, due to its size. But the reason that it is named this way is because of the desktop functions that it has; it works even while it stays in one place.
Other features: The desktop external hard drive houses more storage power and capacity, running beyond 2TB at the least in size. This device also requires much power, with some device variants needing to be plugged to work. The advantage of this is that it can initiate very fast transfer rates, whether via USB or wireless connectvity.
External Solid-State Drive

Overview: The solid-state drive or SSD is the newer form of PC storage option, using memory chips like a USB, than the spinning disk mechanic for storage. Now, there is an external SSD drive available at a premium price.
Usage: In terms of overall usage, the SSD works like the hard drive, albeit without the mechanical components and a much efficient look and design. The chances of memory lost also decreases with this large device.
Other features: The external SSD is similar in every way to the USB in build and quality, save for the larger capacity and a much longer storage time that the SSD has than its smaller counterpart. The SSD also provides more durable and long-lasting usage.