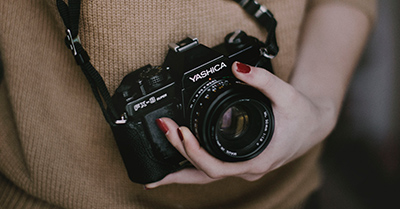 The Evolution of Cameras in the Philippines
Today, the cameras are used to store and record images in the form of pictures, and moving images in the form of videos. It's really overwhelming to think of how much these products changed and evolved over time, from its first form called camera obscura to the modern types of these gadgets people have embraced today. Back in the old days, the main purpose of these products is to take pictures only (that was black and white back then), in fact, it takes almost 5 seconds for the flash to kick in. And you have to wait till the images are printed just to see what you look like in the picture, and when I say wait, that's a long wait to deal with!
Now, these items are the perfect things to have in order to capture every happy moment with your family or friends. The technology innovates and improves these items so much that all the flaws of the very first obscura had been removed and replaced by better functions. Now, people can enjoy recording their happy moments, right where it happens!
The Different Types of Cameras on the Market in the Philippines
These products are one of the most versatile on the market—that in terms of availability to users. Don't worry about your skill level when it comes to photography, either professionals, amateurs or just the hobbyists alike, there are different types of DSLRs and camcorders that will not only fit on your grips but also fit your skills of using them! Also, one of the most influential factors that bring innovations within the industry of these products are the existing manufacturers and brands. These brands create their own model of camera that showcase advanced functions to entice consumers to purchase their products. This is also the main reason why these items innovate in a fast pace regardless of brands.
When it comes to cameras, it does not matter if you are a professional, a beginner, or a hobbyist, there is a gadget that will suit your needs. The DSLR, or digital-singe lens reflex camera, is a digital camera used by professional photographers to shoot landscape, still photographs, portraits, and use it in photo shoots. Point-and-shoot cameras are compact cameras you can bring along with you wherever you go. For people who would rather enjoy reminiscing memories through videos, there are different camcorders in the market for you. Now, if you're going to buy one or two of these gadgets why not invest on its accessories; monopods, tripods, external flash, memory cards, camera bags, and a lot more! So be ready to capture those moments and get your camera now!

Snap memories with Point & Shoot Camera

This product line is widely known as the standard digital camera and is designed primarily for easy operation. They are popular with people who want an easy to use camera for getting snapshots.
These items usually come with an autofocus lens system and automatic exposure setting options with optical zoom up to 30x. Nowadays there are models that are dustproof and waterproof for more durability.
Camcorder for video lovers!

The Camcorder is a specialized camera and video recorder. The main selling points of this item are its video capture and recording functions at high-definition resolutions. These items extend to capturing home video to media, entertainment, and education video-capturing purposes.
These electronics are divided into digital, analog, 3D, and 4K Ultra HD camcorders. Each of these cameras serve different functions and features for their specific users
The advancements of DSLR

Perhaps the most versatile camera on the market. The DSLR is the quality image producing camera that are used by professionals and hobbyists. Regardless of skill, these models are designed to be used by all who want a more in-depth feel with the pictures that they are taking. The camera is perfect for casual or professional image capturing.
The DSLRs are popular for bringing both automatic and manual systems for usage. Automatic for average photographers and manual for professionals alike. The most significant features can be found on the exposure settings and focus.
The different types of Camera Accessories

The most common camera accessories are used for memory capacity, power, image enhancement, and storage. Some of these items extends their use for lighting and printing purposes.
The features for photography accessories depend on the item. For SD cards and other memory storage and lenses, the features depend on the brand that manufactured them. The camera bags, monopods, tripods, straps, and lens cleanser, are the materials in which the consumers are on a look out for.