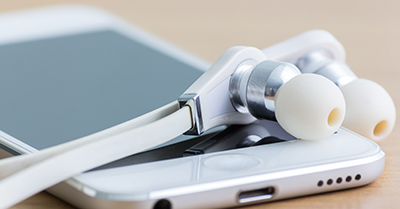 Enjoy Great Audio with In-Ear Headphones
If you are the type of person who likes to listen to music wherever you go, then it wouldn't be a surprise that you're planning to invest on a pair of good headphones that you carry along everywhere around you. The very comfortable and noise-cancelling headphones are very useful as a personal listening device, allowing you to listen to your favorite music by yourself. But if the large design and the conspicuous look that the large headphones come with aren't part of your style, then there are also the smaller, yet equally helpful and connective in-ear headphones available. These are more commonly known as the earphones, that fit your pocket
Only the Best In-Ear Headphone for You
The in-ear headphones come in as iconic as a personal listening device comes. This small mobile accessory allows for a more focused listening that is almost invisible due to the smaller nature of the audio device. The earphones can also function as well as the other headphones, providing ample noise-cancelling technology, having clear and lossless stereo-audio, and even some cases for communication, when outfitted with a mic. These types of simple, yet reliable, and affordable earphones are the first things you should buy first, when choosing the proper private listening devices.

Standard In-ear Headphones

Overview: This simple form of the headphones is the most known among the regular music enthusiasts. The earphones come in as ear-bud, or socket-type designs, that connect to your device via a 3.5mm jack. Several earphones also provide stereo sound using the left and right parts of the earphones
Uses: This is the most standard form of the earphones, focusing on blasting music on its small drivers that you, alone, can hear. The earphones is also very helpful in that the simple listening device is enough for a simple listening of music.
Sports Earphones

Overview:The sports earphones are the more durable and wireless variant of the earphones for listening. This device is tough, connects via Bluetooth, and can stream high-res audio with a bit of noise-cancelling in its technology.
Uses: This sports earphones is mostly used for jogging and training purposes, allowing you to listen to music even when training. The common sports earphones come as a wireless listening device, perfect for jogging without tangling, and comes with sweat protection on the audio devices .
Mobile In-ear Headsets

Overview: This type of earphones are the ones that usually come with your mobile device. The mobile headsets are simply earphones with mic capabilities, seen on its cord. The device connects via USB or 3.5mm jack, with an audio control, auto skip, and mic for your convenience.
Uses: Aside from listening to music, this type of in-ear headphones are more suited for calls and voice communication. The controls found on its cord allow skipping of tracks in your music app, volume control, and play/pause controls. The device also comes with a clear mini microphone, where you can talk to, when calling from your mobile device.