340
340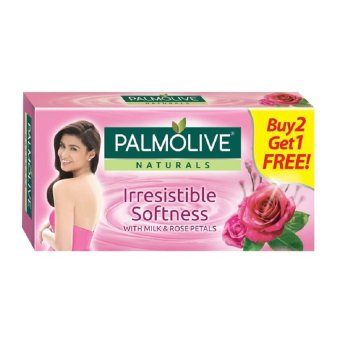 Product details
Key Specifications
Moisturizing formula with Milk and Rose Petal extracts

Leaves skin feeling moisturized and soft everyday

Long-lasting pleasant scent

Buy 2, Get 1 Free
What's in the box?
3x Palmolive Naturals IRRESISTIBLE SOFTNESS Soap 115g
Features:
Brand: Palmolive
:

Not Specified

Product Form :

Bar

Scent :

Not Specified

Size (L x W x H cm) :

9.7x19.8x9.7

Weight (kg) :

0.13

:

Defective items can be returned to Lazada within the specified warranty period. If found to have a manufacturer's defect the item will be fully Refunded. Please note that Lazada will not perform any repairs and will not be held liable liable for any defects caused by the customer or defects occurring after the expiry of the warranty period. Note that the warranty does not cover normal wear and tear, excessive abuse or misuse or any instructions provided by the manufacturer or merchant that was not followed by the user that may cause the warranty to be voided.

Warranty type :

Lazada refund warranty only
Product Description
Experience the richest indulgence for your skin with Palmolive's moisturizing feel formula with Milk and Rose Petal extracts. It gives a luxuriously creamy lather, leaving skin feeling moisturized and soft everyday! Enjoy its long-lasting pleasant scent too!