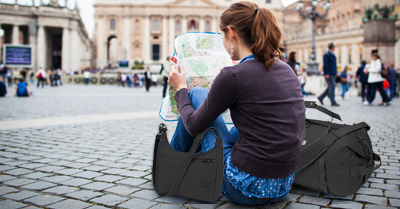 Protect all your belongings with Pacsafe
Whenever travelers are trying to select the best bag, they look at durability, longevity, and handiness. They always look into proper luggage bags, duffels, and backpacks made from very durable material, stitched and crafted to last, and reliable to carry anywhere you go. Pacsafe's bags fit all of these criteria, with an added specification of being anti-theft and RFID protected.
Pacsafe's line of durable bags is made with the intention of being anti-theft. This means added protection and security against third parties who would want to steal your belongings while traveling. All of their bags are armored with slash-resistant fabric, re-enforced foundations, and smart lock systems. Aside from the impressive external protection, the brand's bags are also equipped with smart technology that protects your gadgets.
Pacsafe: A Smart Traveling Bag
Pacsafe is the first brand that uses anti-RFID in their bags. This ensures that your devices, when put inside the bag, are secured against hackers. The anti-RFID also protects your information, seen by electronic thieves when you put your valuables inside your bag. Your passport, credit cards, ID cards, and other vital information are protected if you put them inside a reliable Pacsafe bag.
Why trust Pacsafe?
The brand is the first to make bags particularly to prevent hacking and stealing.
Their bags are made of strong material and durable straps
The brand offers a wide variety of bags, duffels, and luggage carriers, each equipped with anti-RFID.

Travel cases and duffel bags

Toursafe Wheeled Upright: This trolley bag is made from durable nylon polyester, steel handles, and rubber wheels. This bag is also equipped with smart locks and Pacsafe security
Duffelsafe adventure duffel: This bankable duffel bag is lightweight and durable. This bag is also equipped with smart locks, installed to secure your belongings when travelling against nature
Toursafe wheeled gear bag: The gear bag uses the duffel bag's durability with the transport-friendly nature of a luggage case, providing us with a very unique bag for travels and adventure. This bag also comes with the slash-resistant fabric.
Backpacks and Men's bag

Metrosafe backpack: This reliable pack has multiple compartments made specifically for different items. This backpack also sports an anti-RFID compartment for laptops and tablets
Intasafe Shoulder bag: The handy shoulder bag for short travels or school use. This durable pack sports the slash-proof material, anti-RFID, and smart zip lock for the smaller pockets.
Intasafe Z200 compact travel bag: This professional travel bag is designed specifically to stop thieves from stealing this pack. The bag's interior and exterior is made with slash-proof material, with an RFID blocker, and Roobar smart lock systems on all zip locks, only accessible by the user.
Hand bags and protectors

Citysafe Women's hand bag: This women's tote is made with lustrous design in mind. The hand bag sports a key clip and wallet ring, a phone / phablet compartment, and a built-in organizer.
Venturesafe Cross Body Pack : The small bag for carrying smaller things. This bag has a main compartment for valuables, a coin purse pocket, and an RFID proof front pocket for gadgets.
Pacsafe anti-RFID passport holder : A small case designed to hold your passport. This protector uses anti-RFID fabric, and can provide additional protection when inside a dependable Pacsafe bag.