340
340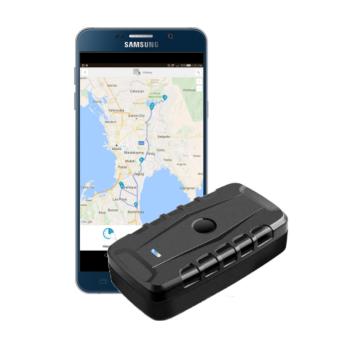 Product details
Key Specifications
Accurate GPS Tracker for any vehicle or truck

No wires to install

Works on rechargeable battery that can last up to 30 days without needing to be recharged

No software to buy, the GPS Tracker will send to your phone an SMS message with the speed of vehicle and also a link to the exact location of vehicle. Just click link and it will open Google Maps and show you exact location of vehicle

Works with Android or iPhone

No monthly fees

No annual fees

Plug and Play

Built-in microphone so you can listen to the conversation inside the vehicle

Strong magnets at bottom of GPS Tracker stick to any metal part of vehicle

Real-time location of vehicle or truck

Open Line (can use SIM from any network)

Works overseas
What's in the box?
1 x Wireless Portable GPS Charger

1 x USB Charging Cable

1 x Wall Charger
Features:
Brand: MGPS
Case Type :

Hard Case

GMS Module :

Yes

GPS Module :

Receiver

Main material :

Hardened Plastic

Mobile Phone Track :

YES

Model :

Manila GPS Trackers-MGPS-Wireless-188

Online Track :

Yes

Size (L x W x H cm) :

11.5cm x 6.5cm x 3cm

Warranty policy (optional) :

1 year manufacturers warranty

Weight (kg) :

0.25

Warranty period :

1 Year

: This item may be returned to Lazada (depending on the reason) within the applicable 7 day or 14 day return period, in accordance with the Lazada return process and policy. After the lapse of the 7 day or 14 day periods, in case the item is covered by a manufacturer, supplier, and/or seller warranty, you can get the contact details of the manufacturer, supplier, and/or seller from Lazada via chat through http://www.lazada.com.ph/contact. The contact details may also be found on the product page.

Please note that the warranty may not cover normal wear and tear, excessive abuse or misuse or any instructions provided by the manufacturer, supplier, and/or seller that was not followed by the user that may cause the warranty to be voided.
Warranty type :

Local Supplier Warranty
Product Description
The MGPS Wireless Portable GPS Tracker is a small high-tech advanced GPS Tracker with no wires to install. Simply install a SIM card from any network and you will be ready to track any type of vehicle, truck, bus or van. Has built-in high capacity 6,000 mAh battery that can last up to 30 days without recharging. Small in size, about the length of an iPhone meaning you can hide the Wireless Porable GPS Tracker anywhere inside the vehicle or truck. Built-in microphone allows you to listen to the conversation inside the vehicle. Need to put the GPS Tracker in another vehicle? No problem because there are no wires to connect or disconnect. Accurate location within usually 5 meters of object. Works by sending you SMS message with the speed of vehicle and also a link to the exact location of vehicle. Just click link and it will open Google Maps and show you exact location of vehicle.