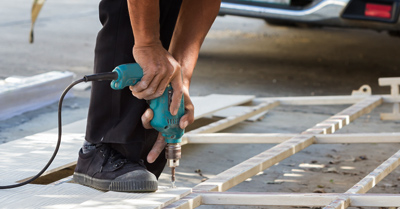 Bosch Philippines: More than just the power tools
As the leading brand of hand and power tools around the globe, Bosch had been known as the best company that engineers and manufactures fine tools for the use of professional and hobbyist alike. Aside from these, Bosch is also a great maker of automotive components, industrial products, and building products that includes household appliances, power tools and thermos-technology. Above all, the company is best known for its power tools that caters every needs in terms of households' and offices' "fix and mix". Tools that are famous for their long lasting durability.
But aside from the drills, drivers and grinders, the company is also manufacturing top notch home appliances and automotive components that are on the same level of quality and toughness as to how consumer looked at Bosch power tools. To say the least, as far as these product goes, equipping either a home workshop or office fixation with Bosch tools ensures quality of workmanship and durability.
Bosch Products for You
It's very definitive for Bosch power tools to do simple and complex jobs with comfort and ease. With bodies that are designed to fit one's hand and machines made in the highest form of engineering, these are sure-fire products that will do every bit of the tough jobs inside your house or office. Grinders, punchers, and drills—solidly built for rugged use, these tools can last a lifetime!
There are also automotive products and home appliances on the company's sleeve. Products like horns, blender, steam iron, choppers, even items for pastry like mixers and toasters, they have them all on their list! Bosch Philippines will cater your every need from the softest household choirs up to the rough and tough jobs inside and outside your home or business.
Why shop for Bosch products?
Their tools are known for durability and effectiveness.
Bosch offers a variety of products to cater every household and office needs.
Their products' quality are tested and are on a high level.
They manufacture affordable products with unique functions.

Power Tools

Bosch Impact Drill: This item has 100 Accessories, powered by 500 Watts, and has a sturdy keyed Chuck for long service life.
Bosch Cordless Impact Driver: This driver is powered by 10.8 Volt and 14.4 Volt battery packs, capable of hard screw driving of 27 Nm and soft screw driving of 11 Nm
Bosch Angle Grinder: This grinder has an auto cut-off carbon brushes, dimple surface for anti-slip, and gear head rotation of 90 degrees.
Home Appliances

Bosch Hand Mixer: This kitchen buddy has a 5 speed setting, 2 turbo beaters, 2 heavy duty, stainless steel kneading hooks; with separate ejection button for beaters and dough hooks
Bosch compact toaster: This brand's toaster has an electronic sensor for constant toasting, automatic bread centering, defrost and crisp function and cancel button with safety switch off.
Bosch Steam Iron: This steam iron has a steam regulation (on, off, two), auto shut-off, and translucent tank design.
Automotive components

Bosch Fanfare Horn: This item has a EMC protection, Optimum quality diaphragm contact points, resistant to rust and stone impacts
Bosch Horn Compact Plus: This compact auto tool has two-tone fanfare horns, membrane filter technology, strong and clear tone
Bosch FC4 Horn: This horn has an audible safety, microporous Teflon filter and galvanized steel for protection
Bosch Supertone Horn: This specific item has a teflon filter technology for watertight and resistance to corrosion, attractive design for visible mounting