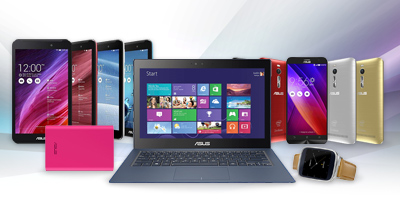 Asus Philippines: Take your Device Anywhere, Everywhere
If you are constantly on the move; going place to place for your work, you'd probably need a mobile and portable laptop and phone in your arsenal. Luckily, the devices of Asus are rightly made for business men and professionals on the go. Asus derived its brand name from the Pegasus, a Greek mythological winged horse that can take you places. In a sense, Asus mimics this mystical creature with their gadgets. The brand's devices are handy, easy to carry, and customizable enough, that you can pretty much take your Asus phones and laptops anywhere, anytime.
Work and School will be Easier with a Trusted Asus Phone, Tablet, or Laptop
Specs-wise, Asus designed their products for business-use, just having enough features to help you in your work, and possibly, school. Sufficient memory for storing files, multiple programs oriented for making text documents and PowerPoint presentations, apps that organize your schedule and requirements, and strong anti-virus software to protect all your work. The Asus phones also function similarly with their computers save for a few that cater to music and movie aficionados. And if you're worried about running out of juice, while you're on the run to your several appointments, fret not! As the brand also released their power bank, the Asus ZenPower. Choose the best Asus phone, powerbank, laptop, or desktop that's suitable for your work, and you can be sure that all your work can be saved and carried wherever you go.
Why choose Asus?
Phones and laptops are designed for business use, with features that easily organize tasks and document files.
Asus Zenfone has ample media coverage, playing music, videos, and games on their mobile devices.
Devices are made to be portable, without sacrificing much of the features.

Asus Zenbook series

Product Overview: The brand's slimmest notebook PC has all the right tools needed for work and school. The Zenbook series comprises fast-processing laptops that can be used for different tasks. The Zenbook is also very portable, able to fit any pack that you may have.
Technical specs: The Zenbook runs Microsoft Windows 7 or 8.1 OS on a 1.9GHz dual-core HD Graphics 4000 processor. The 13.3-inch devices each sport full-HD capabilities, accompanied by a 128GB SSD storage drive and 4GB RAM
Asus Transformer series

Product Overview: The Transformer series combines all the specs of a laptop and a tablet to form a very formidable hybrid device. The Transformer series can come either as a tablet with a keyboard dock to make it a laptop, or as a laptop PC with a 360-degree flip feature to make it a tablet.
Technical specs: Specs-wise, the Zenbook runs Microsoft Windows 8 or 8.1 on a TFT touchscreen function. You can store many files on the device through a 32GB and 64GB internal storage, expandable via microSD, 2GB RAM. Also, despite being a hybrid, some have computers have complete connectivity, including a DVD R/W
Asus Zenfone series

Product Overview: The Zenfone series is the brand's smartphone brand, all running the signature Android OS. The phone series are often released by bulk, and are quite affordable, despite having premium specs. This idea is pushed even further with the release of their latest phones, the Asus Zenfone GO, the feminine Asus Zenfone Selfie, and the brand's first affordable entry-level Asus Zenfone 2 Laser
Technical specs: The Zenfone series run Android 4.2 JellyBean, upgradeable to 5.1 Lollipop, on a 2.3GHz quad-core processor. The different phones under the series all use the ZenUI, making the device unique amongst other smartphones, including the ability to play games through its 8GB. 16GB, and 32GB internal storage, expandable via microSD, and up to 4GB RAM

Asus FonePad/ MeMoPad Tablets

Product Overview:This brand makes use the features of their previous smartphones to produce these midrange tablet devices for high-end users. The Asus MeMoPad is designed as a portable replacement for computers and laptops, due to its work-related specs, while the FonePad takes charge of the brand's call facility tablets.
Technical Specs: The Asus FonePad series come in 7-inch and 8-inch variants, produced per generation. These run Android 4.4.2 KitKat OS on a 1.3GHz quad-core Intel processor. These portable devices are equipped with 8GB / 16GB internal storage with 2GB RAM. The 7-inch variant comes with HD resolution, while the 8-inch IPS tablet has Full-HD capacity display.
Asus ZenWatch

Product Overview:Asus markets this next generation smartwatch as a companion to your Zenfone. However, this advanced wearable can do more than just partner with your smartphone and work its mobile apps. On its own, the ZenWatch can also be a much reliable mobile device.
Technical Specs: The Asus ZenWatch runs on a 1.2GHz processor, with a curved AMOLED display. This elegant watch comes with a smart answering feature, camera lens viewer, a GPS map, and even calling capability. The smartwatch also has a tracker for the phone partnered to this device; helpful when the phone is misplaced.
Asus ZenPower

Product Overview: The brands compact and durable powerbank is full of energy and elegance as it is specifically made to match the smooth and sleek design of the Asus Zenfone. This device also packs a lot of punch, in terms of charging capabilities.
Technical Specs: The Asus powerbank comes with 10500mAh capacity, capacble of charging the normal phone up to 3 times its max capacity. This portable bank is also very lightweight and can fit at your pocket. Its smooth metallic form factor comes in different colors, and is made of durable material that can help the device resist against 11 factors and problems.