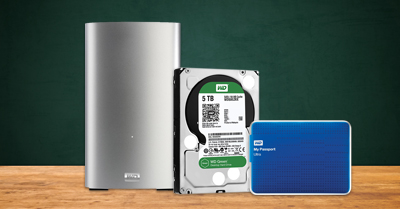 Let Your Business Thrive With Western Digital Philippines
The Philippines is widely considered as a business-centered country, thriving in competitive workforces and progressive businesses. In most of the company's endeavors, the working computers have been very important tools that help them progress further in their respective industries. Equally important for work is the capability to store digital assets in very reliable devices. Good thing, Western Digital is in the Philippines, ready and available to provide the products that can help keep and protect any files stored into them.
For almost 60 years, WD has been at the forefront of dependable computer storage, whether for desktops or laptop PCs. Today, this multinational group focuses more on their developmental prowess on the more portable, easy to use, and very dependable external Western Digital HDD that you can own. You can see how well the group has put together their own line of storage drivers and how their products are always built to last.
Western Digital Drivers: External Hard Drives For All Types of PCs
External hard drives aren't just appropriate devices for laptops, but also for PCs. In a sense, some of WD's drivers are also made simply as stationary devices that can store and secure data as fast as possible. These external hard drives for the desktop PC are larger, but are more capable of acquiring and transferring data. You can get the most proper Western Digital devices in the Philippines at a good price, with complete and added peripherals if you use purchase them from a very reliable source.
Why Choose WD?
One of the most known brands that provide professional storage for people.
The brand's devices provide the most ample storage capabilities and fast transfer rates.
The company's long history serves as a proper basis for their mobile devices.

Western Digital Internal HDD Storage

WD Blue series: The brand's casual and often marketed hard disk drive. The WD Blue is color coded as the most versatile in speed and memory. This HDD is often used for home PCs and a few laptops, often boasting high connectivity with any computer.
WD Green: The WD Green is the brand's business-type computer hard disk, build specifically for quiet performance and relatively larger storage capacity. The Green HDD has a max capacity of 6TB, made to store any computer program or file.
WD Black: The WD Black is Western Digital's gaming HDD, built with very fast transfer speeds and powerful processing of transferred files and documents. This hard disk can also help maximize the overall performance of a desktop it is equipped in.
Western Digital Desktop External Hard Disk Drive

WD Elements Desktop: This bulky, immersive, and stationary HDD is classified as the basic external hard drive for desktops. This large device houses 2TB – 3 TB high speed storage, allowing you to transfer and store files using a USB 3.0 end
WD My Book: The My Book is the brand's premium desktop storage device, with variants reaching up to 12TB in storage capacity. The hard disk also comes with the RAID program that organizes all the files stored onto it, and maximizing the memory of the device.
WD My Book for Mac: This external storage is made specifically to store files created from a Mac. Artists who use a media-form Mac PC can use this bulky storage device, to connect and transfer all your creative work using USB 3.0.
WD Portable External Hard Drive

WD Elements Portable: Made using similar technology with the Elements HDD, this portable external device houses simple, but fast processing powers and reliable storage
WD Passport Ultra: The series that would specifically cover all portable external hard drives, the WD Passport displays sleek and slim form factors, allowing you to carry this peripheral wherever you go. This device is also capable of write protection, and is compatible with any Windows or MacOS devices.
WD My Passport Pro: Unlike several of the external hard drives, this device is made specifically for the Mac, due to its Thunderbolt connectivity. Aside from its different form factor, the hard disk also sports high storage capacity and faster transfer speeds between Apple devices.