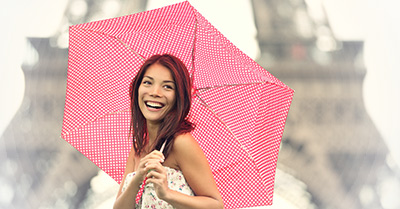 Women's Umbrella for Everyday Use
Here in the Philippines, the weather can get pretty unpredictable. One day it's sunny, the next it's raining cats and dogs. It would be best to be equipped with any type of weather there is. But what better way to do so by always carrying an umbrella around?
Umbrellas are a great way to stay in the shade whether it is raining or even when the sun is up and shining. Protect yourself from the harmful rays of the sun when walking outside as the UV can cause skin damage and other skin-related diseases. Better safe than sorry, right? Let the umbrella save you from the heat and probably skin damage, and uneven skin tone. Apart from the protection against sun and rain, umbrellas can also be cute accessories especially for women! There are a lot of designs to choose from that will definitely tickle your fancy.
Pretty Umbrellas for Women made with Quality Materials
When purchasing an umbrella, it is best to choose something that has a classic deisgn, so it can match all of your outfits. Yes, umbrellas can be used as fashion accessories too, because of the many designs and styles they are available in. There are stick umbrellas as well as folding umbrellas available in the market right now. Foldable umbrellas are more portable because of its multiple folding capacities, while the stick umbrella is usually bigger. Umbrellas come in many colors and prints so there is definitely something that will tickle your fancy. Printed graphics like flowers, animal prints, and geometric prints are only some of the designs can choose from.

Bubble Umbrellas

Description: Bubble umbrellas has little difference with other umbrellas, it is designed to cover the user's entire head
Features: These umbrella has transparent canopy which allows visibility
Advantage: This kind of umbrella mostly cover the head area so whenever it's raining
Designer Umbrellas

Description: These umbrellas are far more expensive over other umbrella types
Features: Can choose from its wide array of attractive and trendy printed designs
Advantage: Using these type of umbrella can accentuate to anyone's fashionista outfit
Compact Umbrellas

Description: These umbrellas have a handle and support that can be folded into itself once the user folds down the canopy
Features: Made of aluminum, nickel, and fiber glass materials
Advantage: These umbrellas are easy to carry and handy, helpful when the weather comes unexpectedly