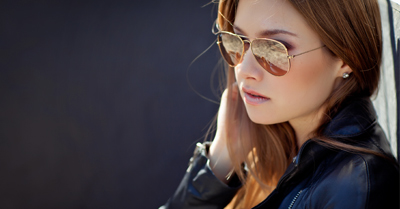 Women Sunglasses are more than just a Fashionable Accessory
Women are highly fashionable. Walking under the sun won't be complete without flashy eye wear. Wearing women's sunglasses is not just about looking fab and cool—there are a lot of reasons why you should be wearing it right now. To begin with, sunglasses protect your eyes in many aspects. No matter how brightly sun shines through the day, it still emits harmful rays, which is detrimental to your eye. Protecting your eyes with the use of sunglasses will help you to prevent early signs eye problems, like cataract that may lead to blindness or cancer. So, if you want to protect your eyes and be fashionable at the same time, it's time to wear sunglasses. If you are looking for a new sunglasses, then you have come to the right
Choosing the Perfect Sunglasses for Women
Sunglasses are made differently in shapes, sizes, and colors. Women have different face structure, that's why it is better to know what sunglass looks better on you. One way to pick the perfect sunglasses for you are to match you face shape to a type of sunglasses. It is said that the sunglasses frame should be a contrast to your face shape. Angular framed glasses are ideal for round faces. There are many online articles that give you tips to help you choosing the best sunglasses for you or your loved ones if you are intending gifting him or her with one. Meanwhile, sunglasses should also match the place where you are and what are you doing. For example, if you are attending a formal event or for work, sunglasses with simple designs should suffice.
Many would think that sunglasses are just for summer but these eyewears are versatile, you can wear anywhere, either for formal or casual events. Moreover, there are also women sunglasses for sports for those who lead an active lifestlye. If you are a sporty gal, this type of shades fits you best. There are various types and designs you should know about shades for women. These are the following: pilot, cat eye, browline, oversized, retro, visor, squared, and sport glasses. You can mix and match these fashionable eye wear to your outfits. In conclusion, sunglasses for women are very valuable accessories to their daily looks — sunglasses can be both practical and fashionable at the same time. It helps them to look better, but at the same time protect their eyes from coming into contact with harmful sun rays and dust.

Women Fashion Sunglasses

Shapes: Choose from aviator or pilot, butterfly, cat eye, clubmaster, goggle, and oval frame shapes
Uses: Perfect for face shapes such as heart, oval, round, and square; Sunglasses are the most perfect finishing touch to your daily outfit
Advantage: This is the perfect type of sunglasses if you want functionality to avoid harmful rays of sun and at the same time to look incredibly fashionable. You should always choose the right sunglasses, advisably ones that will fit and look perfect for your face shape.
Women Sports Sunglasses

Frame Style: Sports sunglasses have various designs of sunglasses like fit over, padded sunglasses, goggles, and rimless.
Uses: There are different sports sunglasses function such as mirrored, bifocal, polarized, and safety lenses that are great for your daily work out regime.
Advantage: If you are out to play sports and wherer you will have a longer sun exposure than normal people, sports sunglasses are for you as its lenses and frame style is made especially for those who need better fit and better sun protection.