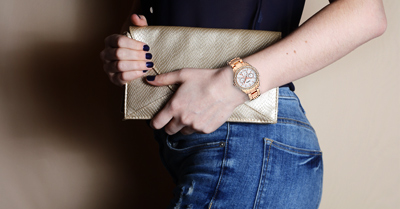 XOXO Watches: A Fine Line of Style
With so many brands and designs of watches in the market, it can really be intimidating to find the ideal one for you or even to decide which of the famous brands will offer you the quality you need and the style you want out of such items. And talking about creating one's own style, XOXO watches can define and show up to how much extent a style of watch can be. For this line of wristwatches, truly know what it takes to be stylish--they are famous for that. That's how watch lovers find them attractive and why they want so much out of these items!
These lines of watches surely will add some sparkle to whatever outfit you want on any day. They are useful enough to fit to your casual to semi casual and even to your most elegant outfit on a formal night out! That's why having one or two XOXO watches on your wardrobe will make you feel an absolute fashionista.
Always in Trend: XOXO Wrist Watches
Ultimately, XOXO really raise up the ceiling in terms of designs and styles of wrist watches today. Since its establishment in 1991, the company had been known to produce stylish apparels and accessories for all the fashionistas wanting to look gorgeous out of such products. On their tagline "Always in the mix", pretty much conclude that they are up of bringing out the hottest and latest hit in the world of appealing clothing as well as top XOXO watches on the market.
Why choose XOXO Watches?
They are always in the trend
Perfect for fashionistas wanting stylish watches.
Top notch functions.
Out of the box designs.

Watches for Women

Display: Watches for women come in both standard analog and digital display
Materials: Quality quartz and Japanese Quartz are high-quality materials used to make XOXO women's watches
Designs: Choose from different classy designs such as Toned cases, Rhinestones, Jewelry clasped closures and more
Models: Do not forget to choose from the best-selling models such as XOXO XO5472, XOXO XO1087, and XOXO XO9025
Unisex Watches

Materials: Stainless steel and leather watches are commonly used as a material for unisex watches
Display: Standard Analog display makes these unisex watches look sophisticated
Movement: These unisex watches are available in Quartz movement
Models: XOXO XO5585 and XOXO XO5593 are just two of the great unisex models you can choose from
Stainless Steel Watches

Features: Stainless steel watches are built to be the best as it is made with mother of pearl dial, polished gold tone, jewelry clasp closure, toned watch face, and can come in bangles
Display: Standard Analog displays are common for stainless steel watches
Movement: Quality Quartz movement are common for stainless steel watches
Models: Some models to look for when searching for a stainless steel watch are XOXO Women's Gold Steel Strap Watch XO5211, XOXO Women's Bangle Gold Metal Strap Watch XO1091, and XOXO XO5589
Leather Watches

Features: Rhinestone bezel, interchangeable strap, toned case are just some of the features most leather watches have
Display: Standard Analog is the common display for leather watches
Movement: Quartz and Analog quartz are your choices for leather watches movement
Models: XOXO Women's XO9068, XOXO XO9023, XOXO XO9025 are just some of the beautiful leather watches model