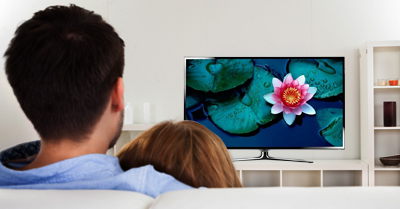 Samsung Television: Experience Great Entertainment
The television has been one of the main sources of entertainment for most people today. That's one of the reasons why they are always looking for the one with the best quality and display – something like what Samsung constantly brings to the table. The Korean brand has been around long enough to know what the market wants and needs when it comes to consumer electronics. That's why the group always equip their items with the latest technologies. For many years Samsung has been trusted, and well-loved by consumers because of their customer-centric dedication to their craftsmanship.
Samsung TV: True High Definition
There are so many different television technologies that Samsung went through, and today some of the best-sellers are their LED and Smart TVs that boasts the most superior quality imaging available on the market. They also come in different sizes and specifications so it is sure that you have a lot to choose from. Figure out the best TV for you, your family, and your lifestyle.
Why Choose Samsung TV?
There's a wide array of TV models to choose from.
The brand is reliable since it is globally well-known.
Their TV is equipped with high end materials quality won't be at risk.

Samsung Full-HD LED TV

Overview: Samsung's Full-HD television is the brand's standard television for all types of users. This electronic appliance offers quality viewing, and connectivity to other devices.
TV Specs: The brand's LED TV boasts 1080p Full-HD resolution, on a variety of screen sizes and displays. The TV also come with reliable ports that can connect to other devices, as well as computers.
Available Televisions: The brand's LED televisions come in different models, each in particular denotes to size. There's a 32-inch, 40-inch, 48-inch, and 55-inch full-sized TVs available
Samsung 3D Smart TV

Overview: The Smart TV allows you to connect to the Internet and view online content on a high-definition resolution. The brand's Smart TV sports much faster connectivity and cleaner Internet streaming.
TV Specs: Similar to the Full-HD TV, the Samsung Smart TV comes with Full-HD resolution with an option for 3D viewing. The Smart TV connects to the net via Ethernet, or Wi-Fi. The 3D Smart TV also has an option to be installed with TV apps that an make your viewing pleasure more enjoyable.
Available Televisions: The Smart TV of Samsung comes in 32-inch TV size above. The televisions can come in either flat screen, or curved OLED, whichever you decide.
Samsung Curved UHD TV 4K

Overview: One of the brand's premium and high-end appliances they've ever made. The Samsung Curved TV 4K, boasts the highest resolution, with crisp and clear imaging, helped by its sleek curve design.
TV Specs: One of the most important specs of this TV is its ability to showcase 4K content on its screen. The curved design also enhances the viewing features of the TV by focusing the viewing pattern straight, similar to movies.
Available Televisions: The curved OLED TV comes in much larger sized variants -- 40-inches and above in length. .