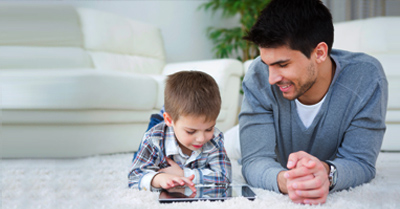 Go For a Samsung Tablet
For many years, Korean brand Samsung has dominated the market of mobile phones, tablets, and consumer electronics like the TVs, sound systems, and audio devices. But of course, how can a successful mobile manufacturer just create smartphone? The brand's continuous rise in resources eventually helped them dive into the tablet category.
Samsung ensures that the people who patronize their cellphones get only the best devices, eventually developing quality tablets that have the brand's signature sleekness and high-end features. The group also tries to connect with multiple tablet users, making various devices with different uses, specifications, and price tags, for other customers.
Love the Innovative Samsung Tablets
If you love the constantly innovative Samsung mobile, then you will surely like the tablets that they make. The Samsung Galaxy Tab brings out the Android OS' full potential, running apps and programs at the most optimum level. The Galaxy Note series gives their device more variety, providing users with a stylus that they can use for a more precise and accurate press – perfect as a professional business phablet.
There is no real question why Samsung is considered one of the best electronics brands in the entire planet. Their products, services, and overall influence reach out toward a world-wide audience that other companies would try and partner with this Korean conglomerate. As for their tablets, who knows how far they can go with this very popular technology.
Why choose Samsung Tablets?
Their devices are highly equipped with the latest features in technology.
There's a huge variety of pads depending on the consumers need.
Some devices are equipped with call facility allowing the user to make an important call if he/she wants.
You can bring the device anywhere you want.
Samsung is a globally well-known creator of high-end devices.

Samsung Galaxy Note (Tablet version)

Product Overview: While the Galaxy Note series is quite popular as a phone, this Samsung series also boast a tablet variant. These larger phablets also make use of the Super Clear LCD, used on the Note phones and the S Pen stylus.
Specs and Features: The Samsung Galaxy Note, tablet version, runs Android 4.3 JellyBean OS, upgradable to KitKat, on a choice of 2.3GHz quad-core or twin quad-core processors. The tablets also come with call facilities and wireless Internet connectivity through 3G and LTE.
Available tablets: The Samsung Galaxy Note series of tablets come in 8.1-inch and 10.1-inch variants, each with a selection of Wi-Fi, 3G, and LTE options.
Samsung Galaxy Tab series

Product Overview: The Samsung Galaxy Tab is the brands first and main line of quality tablets. Unlike most of their other devices, the Galaxy Tab is more focused on the midrange and low-end users, making user-friendly, but also advanced tablets.
Specs and Features: The Samsung Galaxy Tab run Android KitKat OS on a quad-core processor. These tablets come in 10-inch, 8-inch, and 7-inch variants, all boasting HD resolution on their IPS LCD touchscreen. The tablets are also equipped with 16GB internal storage, with 1.5GB RAM
Available tablets: As stated, the Galaxy Tab comes in 7, 8, and 10-inch variants. The tablets can also be classified as Wi-Fi, 3G, and LTE variants.
Samsung Galaxy Tab S series

Product Overview: This somewhat newer and more premium line of tablets make use of the similar technologies with the Galaxy S, bringing high-end users quality tablets that they can enjoy.
Specs and Features: The Samsung Galaxy Tab S run Android KitKat, upgradable to Lollipop OS, on a Super AMOLED screen that displays Full-HD content. The tablets run on twin quad-core processors, with 16GB/32GB expandable storage and 3GB RAM. These tablets also have LTE connectivity.
Available tablets: The Galaxy Tab S series comes in 8.4-inch and 10.5-inch variants. The tablets also come in Wi-Fi and LTE versions.