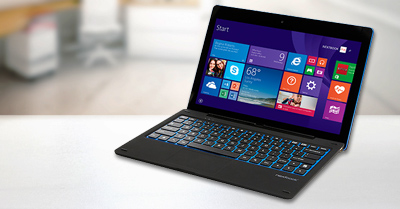 The Nextbook Tablet is a Family-Oriented Device
The tablet is most commonly known as a personal device, usually owned and used by just one person. The tablet is also widely considered as a private device, pretty much like a smartphone. Nextbook, however, try to break this limited use, designing more family-oriented tablets that is made to be used any-one person from your family. The American brand compiles the different specs, features, and uses that will appeal to casual moms, working dads, gamer sons, and social media-savvy daughters. In terms of pure specs, the Nextbook tablet is decent all around. While, there are no features that stand out, their portable device's overall performance can be considered almost excellent. To some, this can be a bit of a turn off, but this can be impressive device suited for multiple users.
The Nextbook Tablet Promotes Greenness in their Devices.
Compared to other widely known tablet makers, the Nextbook brand focuses their resources on the features that are quite inconspicuous to the different tablet users. But probably one of the more impressive feats of the tablet brand is that their products are mostly made from reused resources. The Nextbook tablets are specifically crafted in a way that they can be broken down and recycled into other devices once obsoleted. The e-waste system of the American brand also include a degree of customer-client relations, which is why if you purchase a much dependable Nextbook tablet, you'll surely get an easy customer support connection. Once your tablet reaches the end of its time, you can donate the device and be part of the group's e-waste system.
Why choose the Nextbook?
Tablets are all around decent, perfect for any use.
Devices are made using recycled electronics materials
Has ample tablet accessories for protection, added use, and connectivity
Devices are very affordable for their features

Nextbook series

General Overview : The Nextbook series of tablets is the brand's standard line of devices, all running the latest versions of Android and Windows 8 OS. This series features standard specs, and made using durable, expansive, and connective materials, made cohesively for an optimum performance.
Product specifications: The Nextbook tablets run a selection of Android 4.4 KitKat OS or a Windows 8.1 OS, with an OTA available for their latest versions. These devices maximize processing power up to 1.6GHz, on quad-core processors and 1GB RAM. You're files are also stored and protected through its 8GB built-in flash memory, expandable up to 64GB via microSD.
Tablets Available: The tablets under the series come in 7-inch and 8-inch variants, each with their own advantages and uses. The Nextbook is also home to the Nextbook Windows 8.1 that comes in 8-inch and 10.1-inch devices.
Nextbook Ares series

General Overview : The Nextbook Ares is the first of the brand's Android tablet PCs, running the familiar OS on specs comparable to that of a laptop. Aside from the impressive hardware and visual design, The Nextbook Ares tablets also come with pogo keyboards, making them into true makeshift hybrid laptops that run on Android.
Product specifications: The Ares tablet runs Android 5.0 Lollipop OS, on a quad-core Intel ATOM processor. The device also supports an array of external devices, having been built with mini HDMI ports, microUSB connectivity, Wi-Fi and Bluetooth, and a keyboard dock with additional two USB ports
Tablets Available: The Ares series comes in a 7-inch Android KitKat variant, an 8-inch standard variant, and an 11-inch full HD version with the aforementioned keyboard dock.
Nextbook Flexx Series

General Overview : The Nextbook Flexx is the brand's premium tablet PC line, running Windows 8.1 on their laptop-tablet hybrid devices. These devices also come with a free Office 365 for a year, and access to OneDrive cloud storage.
Product specifications: The Nextbook Flexx runs Windows 8.1 OS on a 1.8GHz Intel ATOM processor. The tablet features Full-HD resolution, allowing you to play files from its 64GB built-in storage that can be expanded up to another 64GB. The tablets under the series also come with 2GB RAM.
Tablets Available: The Flexx series are available 8-inch, 10.1-inch and 11.6-inch variants, each compatible with their own pogo keyboard docks.