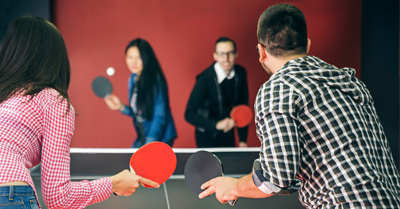 Fun Playing With Table Tennis Gear
Table tennis or ping pong is a thrilling competitive sport. You need to have coordination with your eyes and your movements. This activity is a fun way to bond with friends and family and a great way to exercise your reflexes. Like many sport, when playing table tennis you will be needing several equipment. Wondering what are the things you need to have before playing? It's very easy to grab one.
To play ping pong; rackets, ball, tennis table and net are the essential needs for the game. Having none or one of these equipment can be disastrous. Every sport is made differently, that is why the equipment used in this game is not just ordinary and irreplaceable. Take the tennis table for example; of course you can't use ordinary dining table for this game or use a tennis racket to hit the ball, right? That is why completing the table tennis equipment is a must.
Table Tennis Equipment for You
To be more informed about table tennis, it is recommended that you read blogs and reviews about it; especially, when you are shopping for equipment. Each table tennis equipment are made differently. Like for example the paddle used in the game, they vary in weight and materials used. This means that a product that may be compatible with a player does not mean that it is compatible with you. That is why you should be careful in choosing the right table tennis equipment. It is recommended to read reviews and articles that may help you in buying. Moreover, you should choose from different styles and innovative designs that will give you edge in the game.

Balls

Uses: These balls are the one being hit and determine the winner of the game.
Features: Made from durable celluloid plastic as it is the one being hit most often; moreover, you can choose from different colors.
Brands: You can choose from popular and trusted brands such as Star, Champions, Donic, etc.
Tables and Nets

Uses: Whether it is tournament or just friendly game play, the table and net are very important.
Features: Tables are made of durable materials and can be folded for a practice one-player game. Nets are made from durable nylon works best to most of table.
Brands: Trusting the brands, such as Stiga, DHS, Russ, etc. may give you the edge because of their dedication to create product for you to win the game.
Paddle/Racket

Uses: The table tennis paddle is more like you weapon to win the war; used to hit the ping pong ball.
Features: Lightweight and the handle is perfect for the grip of the player. Combined with maximum springiness/elasticity.
Brands: Choose your paddles from the brands like Dunlop, Grand Sport, Stiga, Aktive, Pioneer, Aolikes.
Cover and Bags

Uses: Bags protect and envelop your table tennis essentials such as paddle, nets, table, etc.
Features: Stylish designs and compatible with your table tennis equipment.
Brands: High quality and various designs of table tennis covers and bags are available under brands like Stiga, DHS, RITC, Donic, etc.