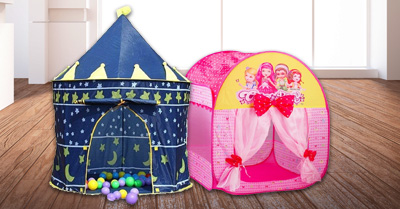 u
Let the Child's Growth Progress Naturally Through the Pretend Toys and Items
One of the cutest and possibly the most helpful part of a child's life is their playing "pretend". The kids are trying to mimic day-to-day activities of adults—from their professions up to the adult tasks that they feel is fun to do. While the common toys and a few accessories can be helpful for their play pretend, allowing your child to fully copy the actions of their parents can be a fun experience, especially if you award them with the proper toys and accessories that they can use for playing doctors, princesses, house, and police.
Children Pretending Can Lead Them to Understanding and Growth
Most parents believe that by allowing their children to pretend to be firefighters, or cooks, or party hosts, they can understand how working and professions work and learn more from the community. In a sense this is true, especially since kids often retain what they play, and learn from the toys that they play with. Kids can also learn which professions they can dream to become when they are older. Overall, the toys and accessories they play are good indicators on which devices would really be fundamental for a kid's growth. Support your kids and possibly play pretend with them as well, through the very different, yet colorful and fun children's pretend sets.

Children's Costumes

Overview: What popular way to initiate pretend in the playpen? Let your children wear the same thing as your uniforms. The play costumes that the kids come as are very unique and fun to let them wear. They can be cute doctors, or pretty princesses, depending on what set of costumes you let them wear.
Different Sets : Most of the children's costume sets available are usually the occupational type ones, designed similarly as how kids view the different jobs as through the TV. There are costumes for kids' police, mini doctors, carpenters, and even fantasy costumes as princesses and princes.
Pretend Toy Sets

Overview: Now, what good are fully-dressed kids if they don't have the proper accessories for their pretends. The kids' pretend sets vary depending on the gender and interests of your children. They could be proper cooks with a kids' kitchen set, or be a good doctor with the medical toys that they can play with. There are also big tents that you can buy for the kids playing large house or castle.
Different Sets : The most often sets available are the ones that young girls often play with. Doll houses, kitchen sets and mini tea tables are available for their pretend. Toys for boys are available too, with mini cars, police accessories, and mini sets that they can play with.