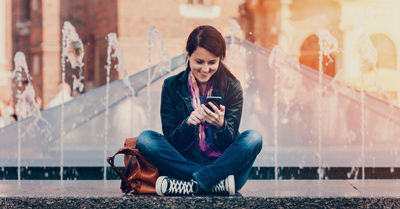 SKK Mobile Phones enhances communication
Philippines has always been called "the texting capital" in the world. Pinoys love to use our phones to send texts and emails to someone special in our lives – be it your friends or family. In a way, Filipinos embody the essence of the cellphone's invention: to better communicate with others. Such is the concept of this new smartphone brand which is proudly made by the country. SKK Mobile's mission is to make communication easy, fun, and worthwhile through their quality SKK mobile phones.
SKK Mobile Phones Philippines: The Friendliest Phone
SKK mobile is a smartphone company focused on communication. Their products range from feature cellphones useable by any person, young or old, to full-spec smartphones that most users want to have. Keeping true to their slogan of enhancing communication, most of the features of SKK phones are tailored on texts, calls, video chats, and social media. Facebook, Twitter, YouTube, and other social sites can be opened through your trusted SKK phone. The local brand also boasts accessibility, which is why most of their products are quite affordable, and easy to use. If you are the type who uses electronic devices to post, chat, and speak to your friends, you wouldn't go wrong with a home-grown brand.
Why should you choose SKK Mobile?
SKK's products are diverse. They have feature phones and smartphones for everyone and anyone
SKK's phones are specifically build, for social media, making it an app-friendly phone
Devices are very affordable, and can be bought anywhere
Easily upgradeable phones, that run apps smoothly

SKK Mobile Lynx Series

Overview: The brand's very affordable but heavy duty series, the SKK Lynx boasts octa-core processing with the standard features of a midrange phone. This affordable device series also has lots of connectivity options compared to other brands.
Features: The Lynx smartphone runs Android KitKat OS on a 1.4GHz octa-core processor. The 5-inch phone makes use of a 720p HD display to play videos and content accessible through its USB-OTG and MHL connectivity. The Lynx phones come with 8GB internal storage, 1GB RAM, and 2500mAh battery capacity.
Avaialble products: So far, the SKK Mobile Lynx Octa carries this affordable flagship name. Other brands include the Lynx Edge and Lynx Lite.
SKK Mobile Platinum Series

Overview: The brand's reliable high-end devices that boast powerful hardware. The Platinum series comprises the phones with the best features the brand can offer.
Features: The Platinum series runs Android JellyBean or KitKat OS on either a quad-core or octa-core processor. Standard specs aside, the Platinum phones boast longer battery charge, through their 2800mAh battery, while its 16GB internal and expandable storage notes that you can store anything to the device.
Avaialble products: The brands that fall under the SKK Platinum include the Platinum Advance, Platinum Edge, Platinum Lite, and the original Platinum smartphone.
SKK Mobile Quad-Core

Overview: Like its namesake, these phones all run on quad-core processors, all with varying names, specs, and features, encompassing the high-end, midrange, and budget phones of the brand. This is to allow all people to experience quality phone use with their devices.
Features: Aside from the quad-core processor power and Android OS, the phones under the series are very diverse, each having different processor speeds, display size, and overall phone features. Choosing the right phone under the series is highly subjective.
Avaialble products: Some of the phones that use quad-core processors include SKK Illusion, SKK Phoenix, SKK Skylark, and the upcoming SKK Aura smartphone.