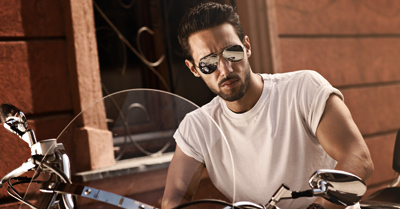 Eyewear Philippines for Men
When it comes to fashion, men are very inclined into wearing accessories; and their favourite is—men eyewear. Here in the Philippines, thousands of men's eyewear are being sold every day. This explains why many men find this item to be very essential for both fashion and practical uses. This item is siimply stylish to be worn and very handy when needed to protect the eyes from the harmful direct sunrays. Accessories like sunglass are very great to make you look manly and irresistibly fashionable. This eyewear does not only good for making you look fabulous but also gives you protection from harmful sunrays and debris that will irritate or infect your eyes. These advantages can be said for eyeglasses too. However, most of these eyeglasses are mostly used to provide great vision for the user; but of course, they are here to make you look good and at the same time serve as a protection for your eyes.
Choosing Eyewear for Men
If you are planning to purchase men's eyewear, there are many things you should consider. First thing first, you should make sure what kind of eyewear that fits you. When it comes to size, consider the bridge, arm and lens length. The size should be appropriate for you once you wear it. One wy to make sure that this accessory appropriate on your looks is by contrasting the frame to your face shape. There are many selections of sunglasses and eyeglasses, such as aviator or pilot, butterfly, cat eye, clubmaster, goggle, oval frame shapes, and sports sunglasses. These choices suggest that whatever face shape you have, heart, oval, round, and square, there is a perfect eyewear for you to wear. Here in the Philippines, the available choices and options for this eye accessory are big and wide. In fact, there is a recommended place for you to purchase one. You can go to online shop that offers you effortless shopping. Here you can find great deals on such eye accessory for the best of prices, discounts and big savings. If you wonder where you can find such great deals, then, head over to Lazada Philippines's men eyewear category and discover yourself a wide array of eyewears and sunglasses for men that are housed and offered for great prices!

Sunglasses

Types: Choose from aviator or pilot, butterfly, cat eye, clubmaster, goggle, oval frame shapes, and sport sunglasses
Features: Sunglasses for men are made to be durable and long lasting,
Advantages: This fashion product is a very stylish accessory, best for all of your outfit and can enormously provide great impact on the way you look,
Eyeglasses

Types: For eyeglasses, you can select lens of your desire like aspheric, bifocal, trifocal, Hi-index, photochromic, polarized, polycarbonate, progressive.
Features: The available eyeglasses are durable and high in quality. There are also added features for lenses you can choose like anti-reflective, blue light protection, scratch-resitant, and UV protection
Advantages: Eyeglasses are made mostly to aid people with sight condition; however, you can use this for eye protection.