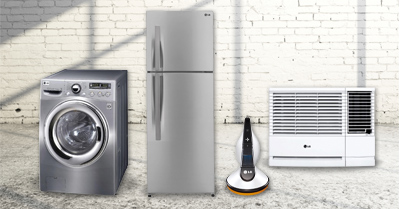 LG Appliances: Your Partner Ever Since
Since the beginning, home appliances helped thousands and thousands of household in living their lives. Up to now, over millions of people are using and relying on home apliances. Who wouldn't appreciate the convenience and wellness our home appliances give us? One of the leading home appliance companies, who provides us convenience, is LG. Life has been good since then. There are major appliances one house should have. These appliances help us to take care of our major basic needs such as food, shelter, and clothes. LG electronics on the other hand, produce these technologies and machine. Being one of the largest manufacturers of home appliances. LG home appliances is trusted by many people today.
Go For The LG Home Appliances You Should Have
Home appliances are essential in keeping our home in good condition. We need help with most chores we do at home. Efficiency is another reason for you to own home appliances. Today, people are busy and have many works to do, we can't do most of the chores at home. With home appliances, we can actually save time and save money as well. We need a brand that offers affordable products and should have a well trusted name. Well, the answer to our concerns comes in two letters: LG. LG electronics provide wide choices of home appliances like air conditioner, refrigerator, washing machine, and home keeping appliances.
Why choose LG Home Appliance?
If truth be told, LG Home Appliance provide durable products that are modern and stylish
For high-tech and energy efficient home appliances, the brands is perfect for you.
There are many choices for the appliance you want like for refrigerator, washing machine, and air conditioner

Air Conditioner

Types: LG Appliance have window, split, ceiling, floor type of air Conditioner.
Uses: LG air conditioners keep your home or workplace cool and comfortable that has energy saving feature that also gives you the opportunity to save energy and money as well.
Features: Most of LG air conditioner have anti-Corrosive Gold Fin, timer, and Energy Saving (High EER) that is fully equipped your air cooling system.
Refrigerator

Types: Choose from Single-door, dual-door, Side-by-side refrigerator.
Uses: Being made as an advance refrigerator, it is expected to have a good performance in keeping your food fresh.
Features: Most of LG refrigerators have moist balance crisper, multi-airflow, mioshield, and LED Lighting feature that make your food storage.
Washing Machines

Types: LG have front load and twin tub types of washing machine.
Uses: With LG washing machine your clothes or garments will be clean and fresh.
Features: Most of washing machines offered by LG technologies have intensive care system to keep your clothes in perfect condition
House Keeping Appliances

Types: The LG offers house cleaning and keeping appliances, like vacuum cleaners.
Uses: LG's cleaning appliance aids you to do the chores fast and easy.
Features: Most of the vacuum cleaners have an ergonomic design, and you can disconnect the dust bin with one touch.