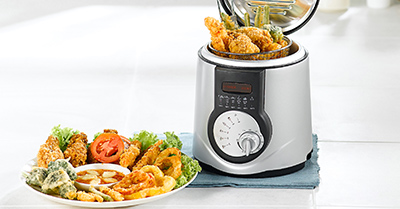 Kyowa: Your Home Appliances Specialist
This is one of the most reputable home appliances brand in the country as it has been providing durable household, and kitchen appliances since 1988. Kyowa, was first known for its portable and rechargeable lamps which were immediately patronized by Filipinos during those times as irregular brownouts were rampant. The brand is also known now for its rice dispenser which is really helpful in storing rice and other consumable goods as it keeps moisture away, keeping the goods dry and mold-free.
Durable Appliances from Kyowa Philippines
The appliances manufacturing company has a wide range of products to choose from— blender, juicer, rice cooker, and vacuum cleaner to make your house feel a little more cozy and tidy to live in. Since the 90s, Kyowa has gained continuous following for years now as it has produced safe and quality items which are all known for durability and reliability. If you are looking for a new set of home appliances, go and search for the best items of the brand which will fit in your needs from your favorite online shop now and have your items delivered right at your doorstep.
Why choose Kyowa Home Appliances?
This brand offers stylish items that are easy to use for the Filipino families
Kyowa has been awarded the Peoples Choice Award and Seal of Product Quality Award
There are available products for the starting and larger families
Kyowa ensures the safety of the items through quality check during and after production

Blenders

Capacity:This brand has 1.3, 1.5, and 1.7 liter jug capacity blenders
Material:There are available plastic and glass pitchers for the blenders
Features: The blenders of this brand have safety lock
Other Features: The blenders have 8- 12 speed setting with pulse blending control
Vacuum Cleaner

Capacity:The vacuum cleaners have different weight of dust capacity and full level dust bag indicator
Material: This items is made of durable hard plastic and telescopic metal tube
Features: This brand uses a 3-filter system for the vacuum cleaner to ensure the neatness of your homes
Other Features: The item has a 360° hose swivel rotation and retractable power cord
Rice Cooker

Capacity:This brand has 1, 1.5, and 1.8 liter capacity for their rice cookers
Material:This item is made of heat resistant hard plastic
Features: Can cook rice in just a few minutes
Other Features: Has a built-in steamer for your other dishes
Juice Extractor

Capacity:This brand can extract juice up to 1 liter per process depending on the fruit and/or vegetable availability
Material:This is made of hard plastic, stainless steel blade and micro mesh filter basket
Features: The juicers of this brand have safety locks and high powered motor
Other Features: The juice extractors have dual speed setting with pulse control