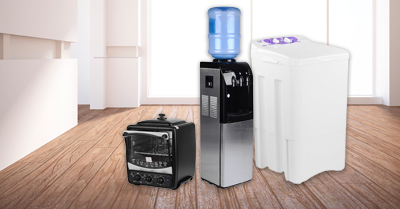 Your Home Deserves American Home Appliances
Do you want to live the American way? Why not start with purchasing home appliances that are within the American standards way of living? If this is an option for you, then you can check the home appliances of American Home to make your home more cozy and comfortable to live in. This brand has been producing the most reliable electronics for its consumers that can spare some bucks for quality products.
Elegant Appliances from American Home Philippines
Setting the standards high for a more relaxing experience, this brand has endured the competition in the industry for so long. There have been many other brands, but American Home has maintained its status in the home appliances industry. It can be noticed that the brand has a lot of products under its helm — from washing machines, induction cookers, air conditioners, refrigerators among others. There may be other names in the market, but there is no other thing like this brand.
Why choose American Home?
American Home is the leading brand in home appliances
This brand produces quality products ever since
American Home provides cost-efficient home appliances
The brand name certifies its products durability
<

Cooling and Heating

Featured Products: American Home offers cooling and product, such as water dispenser and water heater
Uses: Water dispenser does not only provide you convenience in getting your drinking water but also gives you hot and cold water. On the other hand, water heater are used for bathing. You are able to control the temperature of the water you are using when taking a bath.
Features: Both water dispenser and water heater are efficient to use and have resistance to the hot temperature it uses. Also, the designs have a modern look.
Garment Care

Featured Products: Making our clothes clean and smell fresh is needed; American home have washing machine to do that. Moreover, there are different kinds offered by the brand, such as single tub and double tub
Uses: It has a powerful turbine to take all the dirt of your clothes, yet the machine is safe for your garments too. Aside for washing there are also options for drying and spinning. Most of American Home appliances have dryers or spinners installed with the washing machine.
Features: All washing machines offered by American Home are powerful insulator that cleans your garments properly.
Kitchen Appliances

Featured Products: Aside from making your food delicious, the cooking process should be fast and safe that is why American Home provides you kitchen appliances, such as rice cookers, induction cooker, steamer, and oven.
Uses: The brand's kitchen appliance are made differently to serve different purpose and their dedicated purpose is not limited to one use only. For example rice cookers, the product are made to cook rice without the need of checking but you can use it in making cake or steaming, and more.
Features: All of the kitchen appliances of American Home are powered by electricity–These kitchen appliance are made to be safe in your home.