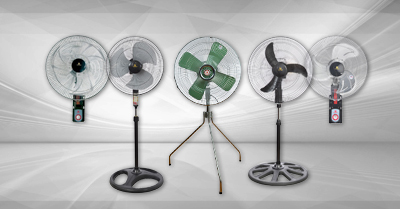 Choose Standard Fans for Your Cooling System
Why do you need an electric fan? When hot weather strikes, it is nice to have cooling system by your side. Mechanical fans are widely used by all, especially here in the Philippines, and it's been our best solution to fight the heat. Your home needs a fan, to keep the air flowing and makes you comfortable all day.
Many home owners today are thinking to have air-conditioner for their house, but why is that having an electric fan is still the best choice for you? First and foremost, some people are choosing air-conditioner because that they can afford one. But the truth is, you don't get enough much of your money with expensive air-conditioner. Mechanical fans, on the other hand, are relatively cheaper to own and consume less power. Nevertheless, its purpose to give you cooling comfort is equally functional like other cooling systems.
Why Standard Fan is the Best for You?
For many years Standard appliance provided us the best of best fans we can use to combat the heat. The brand is a house hold name that provides home appliances and most especially electric fans. Standard fans vary in different type. To name a few of the mechanical fans they offer are the following: des fans, terminator fans, wall fans, stand fans, exhaust fans, industrial fans, duct fans, ceiling fans, orbit fans, and many more.
Why do Standard fans stand out? Proving high quality fans plus sold in affordable price is the edge of this brand. Most consumers are concerned about their budget and are looking for long lasting products to be purchase, Standard appliances is here to provide us with that. Anyway, it's normal to be skeptical about choosing the perfect fans for you. But if you asked someone of what is the best brand of electric fans—there is only answer, it's Standard appliances.
Why Choose Standard Appliances for your fans?
The brand is well-known and well-trusted brand when it comes in providing home appliance including electric fans
Through the years, the brand is providing quality electric fans that brings cooling comfort to Filipinos
Standard fans have wide range of electrics fans you can choose from.

Stand Fans

Uses: Stand fans are commonly found in household, this product helps to ventilate and cool the air in your house or room
Benefits: Stand fans are easy to operate and install, you just need to plug it in and press the button. This kind of fan is movable and not convicted in one place
Features: Comes in different sizes, like table fans. The product may varies from the materials used yet durable
Wall Fans

Uses: As like most electric fans work, wall fans circulate an airy cooling feeling inside the house; nevertheless, this kind of fan are fixed in one place
Benefits: What is good about wall fans is that it can ventilate in greater area as it is placed in a higher part of the house. Also, it promotes comfort so, you won't feel like you are suffocating
Features: Most of the wall fans have heavy-duty frame construction, so there is no fear it will fall
Exhaust Fans

Uses: The main function of all exhaust fans or duct fans is to purify the air, eliminate bad odor and exhaust excessive heat, especially when we are cooking
Benefits: One reason why exhaust fans are needed is to control the level of the humidity. This product absorbs extra moisture that may cause building of molds in the house. This is ideal in bathroom.
Features: Exhaust fans comes in different sizes. Most of exhaust fans have thermal fuse protection. Also, it is easy to clean
Industrial Fans

Uses: This kind of fans are produce higher level of wind commonly used in lager or closed place that help to ventilate air
Benefits: This fan is powerful enough to keep the surrounding away from harmful chemicals and gases. Also, this function as blower that may help to dry the place faster
Features: Like stand fans, some of the stand-fan-like industrial fans have adjustable height and titling head.