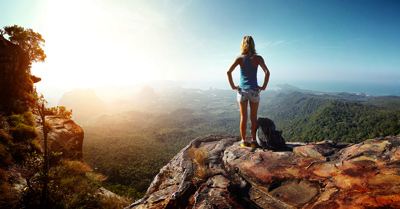 Hike with High Sierra Backpacks
Do you often go on a long weekend trip, whether planned or unplanned? Do you often want to escape the busy city streets and traffic jam in the metro? Then go and trek your way up to the hills and mountains all you want, because there, you can experience piece of mind and relaxation at its finest. Just make sure to bring a durable pack and other hiking necessities so that you would enjoy a good trip without the hassle of forgetting your valuables and hiking needs. High Sierra specializes on camping bags for the backpackers who are in for fun and adventure.
High Sierra backpacks are made out of durable fabric that are lightweight and heavy duty — light fabric, so that it will not add up to the weight of your load, and heavy duty so that it can help you bring all your stuff to the top. Having a dependable bag will lessen your worries so that you can enjoy your trip, no matter comes in the way.
Quality Camping Bags by High Sierra
The bags that are offered by this brand have a good shoulder padding, and adjustable straps to keep the bag in perfect form and for additional top loads that you might not want to put inside the bag. Some models of this brand have several compartments and pockets for equal load distribution. Remember to pack light and put the weight at the center so that the weight will not pull you down and keep it balanced so you will not topple down. High Sierra will be your best buddy once you've tried its camping bags on your next trip.
Why choose High Sierra backpacks?
The brand is trusted by backpackers worldwide
High Sierra products ensure that you get the value of your money
They have a wide variation of bag types to choose from
Some of their products are water resistant and easy to use
Backpack

Features: Most of the brand's backpack has a large main compartment and media pocket for the gadgets
Uses: Casual backpacks is an ideal bag for everyday use like for school and office; they can also be used for travel
Advantages: Backpacks are spacious and have more interior compartment than other bags; ideal for big and heavy stuff
Laptop bag

Features: All of the laptop bags and cases offered by High Sierra have snug fit feature to protect your laptop for when you are moving or on the run
Uses: This is the ideal professional bag for bringing you laptop to your school or business office
Advantages: Laptops contains important file you use for your school or work, laptop bags are needed for protecting you laptop from damaged
Travel Bags

Features: Travel bags are made more durable and more compartment for more organized bag packing and easy to carry things
Uses: This kind of bag can be used for trips and travel; ideal for hiking, camping, or out of the country journey
Advantages: Travel bags come in hiking backpacks for more spacious bag and wheeled backpack for easy to bring stuffs