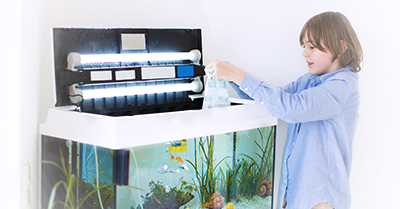 Decorate your Home with Aquarium Accessories
Do kids urge you to buy those fish? It's a good sign that they want to care for something. And you may need an aquarium for it. It allows individuals to bring sea life indoors and a great way to decorate the room as well. When it comes to aquarium products, an individual has lot of options ranging from different styles, sizes and materials and the type of aquarium also tells the kind of fish that can live there. Before you make a purchase of aquarium, it is important to consider few things so that in years to come you are happy with what you purchase.
Aquarium Needs an Accessories
In searching for the best aquarium accessory, determine how many fish you want to purchase, this way you can excellently choose what material and size of aquarium is best to use. Since we have advanced technology, popular material that most people look for nowadays are aquarium led followed by glass and acrylic. Glass is easier to clean and does not scratch easily yet heavy, while acrylic is lightweight so if ever you wanted to move the aquarium right at the moment, it won't take too much effort. If you are a beginner, better to select the large size aquarium because the smaller ones tend to get dirtier. Another thing to consider is the shape; fish lives longer and freely to move when they inhabits in a horizontal length space.
Aquarium itself is inadequate to care more efficiently the fish and other sea life. You should include other accessories so that fish could live healthier and happier when they see different stuff and have more room to explore. Optional accessories include lighting, hoods and stands. Lighting improves the visual appearance of the unit and can create a splendid underwater effects which could make an attractively design aquarium. Hoods minimize water noise and secure the unit from insects and other pets. For wide range choices of these items, check aquarium accessories online!

Aquarium

Features: Aquariums can be made from Glass and Acrylic. Opt for glass if you wanted to place the aquarium in public place and choose acrylic if you want to move it often
Design: Popular designs of aquarium are square and rectangle. There are also pentagon, hexagon and bowfront shaped versions
Use: Aquarium provide shelter and hiding place for fish and other sea life
Heaters

Features: Most heaters are supplied with thermostat that keeps temperature warm beneficial for sea life
Design: Available in black and grey pump
Use: This heaters provide ambient room temperature that fish needs in order to have long life
Filtration System

Features: It features an energy saver combining high performance output with quiet operation
Design: This system is classified into 3 types (Under gravel filtration, power and canister filter). UGF requires regular maintenance, whereas power filter doesn't need any maintenance and the tank usually placed on the other side for quick access while canister filter utilizes less maintenance
Use: This system maintain the quality of the water and the health of the fish
Decorations

Features: Most made from artificial stuff; can choose from different accessories such as Tank and Artificial Vine
Design: Most acquired decorations are rocks and plants such as coral reef, jelly fish, pebbles, and some artificial glowing lights
Use: This decorations offer the natural environment feeling for the fish. It can change the aquarium into a beautiful scenery