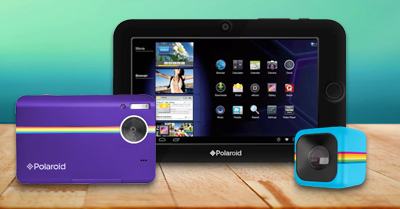 Polaroid Philippines: Innovation Happens
Polaroid is an American brand specializing in cameras and imaging. Maybe you have heard of the name, due to the instant print camera they popularized, allowing you to get a copy of your picture on the go. The brand has since moved on to this technology, this time using their imaging and tech prowess to produce entry-level tablets and smartphones that aim to introduce new users into the new technology.
High Standard Products by Polaroid in the Philippines
As time goes by, so does technology – it is constantly evolving and changing, which is why Polaroid constantly seeks for the latest trends, may it be in design or machinery. Today, the American brand has already manufactured a multitude of camera's together with different types of mobile phones, tablets, and more. Another thing -- their instant cameras are starting to make a comeback.
They continuously thrive through the years with their wide array of products that they have also made available through the best online shopping site in the Philippines for an easier access. They made sure to equip their items with not only the latest innovations in technologies, but as well as the highest standards when they are manufactured.
Why Choose Polaroid?
Their electronic device is up on the latest trend in technology.
Compared to the other brands their devices and other accessories are cheaper.
The products that they produce are of high-quality.

Polaroid cameras

Overview: Polaroid started their business as a camera and imaging company. Their cameras are top of the line and provide different technologies that combine their classic features and the new digital technology.
Uses: Polaroid's digital cameras come in different forms and made for different purposes. The brand has devices for adventure and outdoors, as well as cameras for casual use. Of course, the quick-print feature of the devices make these devices more on for hard-copy images.
Available products: The brand's wide array of cameras include their small, but terrible action camera, the Polaroid digital film camera, and a lot of accessories to boot.
Polaroid Tablet

Overview: The brand's entry-level tablet line has the most basic specs, needed for visual and casual use. The Polaroid tablet also stand out due to its unique design and features, suitable for readers.
Uses: Unlike most high-end tablets that have several capabilities, the Polaroid tablet is more suitable as a reading tablet, complete with apps and screen resolution that makes reading from a device much easier.
Available brands: Some of the tablet brands under the Polaroid brand include The Polaroid Rainbow, and the Polaroid Diamond tablet series.