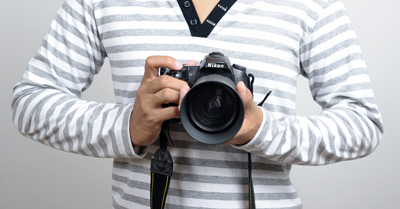 Nikon Philippines: DSLR Cameras for everyone!
Since its major breakthrough in the 1950's with their Nikon SP camera model, Nikon continued its production of high quality cameras that innovates the way we see pictures today. The company also managed to successfully innovate their products thus coping to what are the in and out of today's camera tech..
As one of best and top brand of DSLR cameras in the market, Nikon is always expected to produce top-of-the-line models of cameras for the use of professional photographers alike. But with the use of Nikon dslr cameras, you don't need to be one of the professionals to produce quality images like they do! The unique features and capability of the brand's cameras enable amateurs or even hobbyists to use them for their love of taking pictures. Now, Nikon Philippines brings these line of cameras to you!.
Shoot your every photo with Nikon DSLR Cameras
Nikon, as a corporation specializing in optics and imaging products, have a vast variety of cameras under their sleeve. Cameras that are appropriate to the needs and skills of all "picture-lovers" and "moment-capturers" wanting adornment on their photos. And for the pros, the company also got high tech camera lenses to improve one's experience in using their model of cameras. Nikon DSLR cameras are certainly the one to have on a photoshoot, outings, sports activities, and even the simple family bonding on your home. Always take these Nikon cameras "At the Heart of the Image"..
Why shop for Nikon cameras?
Their line of cameras are made from the newest camera tech.
The quality of their products matches its affordability.
Their cameras are easy to use.
They offer models for both professional and amateur photographers.

Nikon Cameras

Nikon DSLR Cameras: The Nikon DSLR are the most powerful and modern digital cameras, designed for professional use. The brand distributes this reliable device under Professional, Enthusiast, and Entry-Level, to distinguish the different cameras and their respective target audience.
Nikon Coolpix:The Coolpix cameras are the high-end feature cameras that make up the main line of commercial cameras for casual use. This line of seek, stylish, and full-featured devices are suitable for personal or family use.
Nikon 1 cameras: The brand's hybrid camera line provides, performance and portability, as well as adaptability to other camera peripherals. The device comes with the added feature of lens compatibility on a much smaller form factor.
Nikon Camera Lenses

Travel and Landscape: The brand's widescreen lenses for taking landscape and wide-angle shots. The lenses also give the DSLR a good way to maximize the standard picture width.
People and Events: If you are into portraits, you may want to get this high resolution camera lens due to it accurately taking facial features and full events happening as they go.
Sports and Action: This is accurately one of the more faster lenses due to its ability to track fast objects. The camera lens can also see and shoot through blurry scenarios to give you full photo-finish resolutions.
Close up and Macro: Turn your camera into an HD magnifying glass with this shooting lens. The magnifying shooter can close up and capture every small detail of any microscopic elements in high resolution.