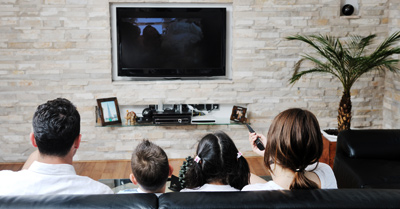 Get Quality from My View's range of products
Are you an electronics jocky who wants to always get the best products with a minimum price? Well honestly, it's never just about the price. Excellence, quality, and usability of every device is the most vital thing for every consumer electronics product. This is what My View is all about – quality products in affordable prices that include high-quality LED TVs, Android-based tablets, and mobile phones. My View's mission is simple: to improve their customers' lifestyle by applying new ideas and coming up with simple, high quality and user friendly products.
My View always considers complete aesthetics superiority with their products, but more importantly, My View crafts user friendly products that are still up to par with the latest technology. They believe in providing simple and easy-to-use gadgets equipped with superb features and useful accessories. Their TVs have all the essential features that would make them unassuming and very user friendly. There really is more to the My View TVs than meets the eye. Gone are the days when you pay for more just to get the best features, especially now that you can avail them for half the price. My View stands firm in what they truly have faith in: that a consumer should not burn a hole in their pocket when buying electronics.
My TV, My View Philippines
My View's trademark, since their recent conception is their quality LED TVs. So far, they have released televisions in multiple sizes and resolutions, topping off with a standard but impressive 1080p Full-HD flat screen. If you are looking for the highest quality TV that is inexpensive and is proudly Pinoy, look no further than a My View television.
Why choose My View?
TVs are affordable, with impressive features design on high quality viewing pleasure
User-friendly television that is quick to understand and easy to operate
Multi-connectivity features that can transform the TV into a large monitor.
Has a gorgeous form factor that will make any living room more lively

MyView LED TVs

My View Pixsmart Full HD LED TV Black 19PX100 : One of the brand's smallest LED TV is this 19-inch device that displays 1366 x 768, Full-HD. This television is also quite connective, with its USB, HDMI, VGA, and Composite AV ports. This small TV also has surround sound capabilities
My View HD LED TV Black 32LX100: This standard 32-inch TV has similar resolutions as its 19-inch counterpart, providing you with HD viewing at 100 clear motion rate. The TV needs 80W of power, and can connect with USB, HDMI and Composite AV devices
My View Full HD LED TV 24PX200 : This 24-inch TV may be a bit smaller, but this powerhouses can stream Full-HD content at 1920 x 1080 resolution. This TV also comes with a Platinum X-ONE Karaoke Player with FREE Wireless Microphone, and a Wall Bracket
My View LED TV Black 55EX200: One of My View's larger TVs is this 55-inch Full-HD TV, with a 120 clear motion rate. The TV also has cleaner power consumption at 100 – 240V 50/60GHz, with connections through USB, HDMI, VGA, and AV
<!—2nd column -->
My View Smart TVs

My View SMART TV 40PX150: This 40-inch Smart TV has ample connections to help you surf online. The TV has a 1366 x 768 HD resolution, compatible with playing any online and digital content through its USB port. The Smart TV can also stream 1080p videos through VGA and HDMI ports.
My View 32SX150: If you want quality Wi-Fi TV, this is the perfect device. This Smart TV focuses more on content found on the Internet, streaming clear videos without lag, through its strong Wi-Fi connectivity. The 32-inch television also uses Android 4.0 OS to download TV apps.
My View 40SX150: Similar to the 32-inch TV, this 40-inch device has Wi-Fi connectivity and clear streaming of videos and shows found on the Internet. The TV also use Android OS for web browsing and downloading apps for your TV
My View 50SX150 : The brand's flagship TV streams online content on a maximized 1080p Full-HDF resolution. The 50-inch TV also incorporates both features of the other Smart TV and LED TVs to provide you with a high quality, high definition viewing experience on a budget.
<!—2nd column -->