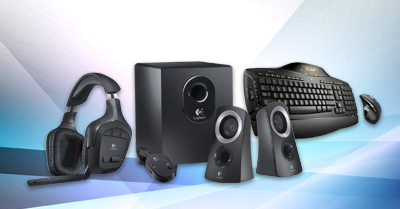 For Computer Needs Logitech is the One
Logitech is continuously promoting themselves as one of the most trusted brands when it comes to computer and tablet accessories. This multinational brand has become the ultimate go-to brand when it comes to all things related to computers and other electronic gadgets. And they continue to strive for better and more innovative products for the market.
The brand is fixated on innovation and quality, with their accessories and peripherals made to help people enjoy an improved experience with their digital devices. The brand started out in 1981 with only one product – the mouse, which provided a natural way of interacting with a personal computer. They soon became the worldwide leader in computer mice. Logitech has reinvented the mouse in many other ways to match the evolving needs of a computer and laptop user.
Logitech Philippines: Advances In Terms of Technology
Logitech's products are being sold in almost every country all over the world, and the brand's leadership in innovation now includes a wide variety of webcam, keyboard, mouse and headset. From their humble beginnings, the company has broadened their capability in designing products beyond what they started with. Even though specializing in PC navigation, they have now expanded to manufacturing gaming console peripherals, and even accessories for home entertainment systems.
In each and every product category, the brand ensures to study how their customers use their digital devices first, and then the designers and engineers set their visions on how they can create a better experience with the devices that they currently offer – something that is richer, more relaxed, incredibly fun, more convenient, and more delightful.
Why Choose Logitech?
The said brand creates high end electronic accessories.
It is a well-trusted brand all around the world.
There's a wide variety of computer trinkets to choose from.
There trimmings are not just affordable, but also durable.
Logitech Headsets

Types: The quality headsets Logitech make are divided into a wired variant, connected via USB, and a wireless variant.
Uses: Aside from listening to music at Hi-Fi resolution, these headsets can be used for conversing to your friends online
Advantage: Some of the Logitech headsets come with a Noise-canceling feature and a clear, digital audio microphone. These are also made to be a perfect fit with the lightweight and flexible material.
Logitech Speakers

Type: These multimedia speakers are made purposely for laptops and PCs. These connect via 3.5mm jack, or a USB cord.
Specs: The brand's speakers come in different designs but all devices have 65Hz – 20 kHz sound frequency.
Compatibility: All media players with a 3.5mm audio socket can be connected to these diverse speakers. PC audio are also maximized on this device.
Logitech Wireless Keyboard and Mouse

Design: The cleanly colorful, thoughtfully designed mouse with wireless combo and a splash of color in a streamlined shape.
Uses: These computer mice are very standard in terms of use. However, some of them are designed specifically for gaming purposes
Feature: These mice come with smooth moves, and are built to last. These powerful and reliable wireless mice also have a long-lasting battery life