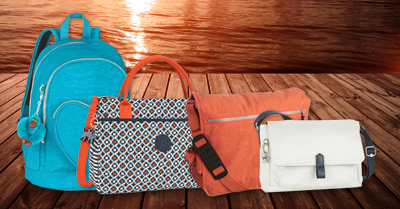 Unique Bags from Kipling
Kipling was found in Antwerp, Belgium. Its products were first sold in United States of America then it began to expand in different countries. This brand has numerous styles that you can choose for each and every occasion. Kipling bags have a different material compared with other designer bags that we see. They use crinkle nylon fabrics in their bags instead of using the usual bag materials. However, they used the name 'Kipling' so that everyone could properly pronounce the brand wherever they came from; they want to make it easy for people.
Monkey as Kipling Philippines' mascot
As you realize, there is always a monkey in every Kipling products. Here is the answer – if you are familiar from the author of "The Jungle Book" – Rudyard Kipling, this man connects the story of "The Jungle Book" because it is all about being happy in life, it symbolizes being fun and adventurous just like the bags that they offer. So Kipling gave the perfect connection and Monkey became the brand mascot. However, this bag suits all ages – therefore, you can give it to anyone that you cherish. Give your loved ones a good piece of Kipling bags in any kind of occasions: like on Christmas, Valentines, Mother's or Father's day, birthdays, whenever -- as long as you'll make them happy.
Why choose Kipling?
Kipling is a well-known brand worldwide
They have lots of bag designs and kinds
Kipling uses unique and high quality material
It is a very durable brand
A masterpiece of luxury

Shoulder Bag

For: Women that want an on-the-go bag that has a great organization panels and trendy designs
Material: Kipling's shoulder bags are made of high-quality water-resistant crinkle nylon
Features: It has an adjustable strap, zipped main compartment that has a zipped pocket and a slip pockets with pen loop
Handbag

For: This is great for women that wants a fashionable handbag that can be converted to a shoulder bag with its adjustable strap
Material: Enjoy a handbag that is made of high-quality water-resistant crinkle nylon
Features: Be more comfortable with its adjustable and removable shoulder straps, dual carry straps, and slip back pocket
Backpack

For: People who want great functionality without sacrificing its design
Material: This is made of nylon with a velcro enclosure for its flap
Features: These backpacks have multiple pockets that you plenty of storage options on where to keep your valuables
Messenger Bag

For: Women that want an on-the-go bag that has a great organization panels and trendy designs
Material: Their messenger bags are made of durable nylon fabric
Features: Outside messenger-style front flap closure and has an inside two slip pockets and zip pocket