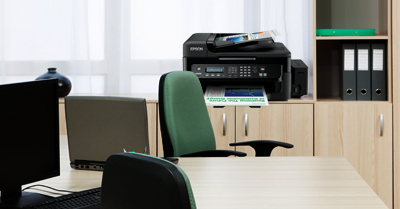 Epson Philippines: Household Name for Printers
Your familiar with it right? It's like every model of printer you came to know have the name of Epson on whichever part of the product. Well, that's because Epson is one of the famous leading brands of printers in the world today. And their product are widely known to cope the needs of printer users in terms of producing quality images either for home or business purposes.
A company that started producing printers since 1968, they had successfully followed up their prototypes by releasing new models after new models. With the continuous evolution, the company's products are now one of the household names when it comes to manufacturing good quality printers that people has come to know today.
The Epson Printers: Producing Images that "Exceeds Your Vision"
Standing with their tagline "Exceeds Your Vision", Epson had produced numerous line of printers that are made with the newest and most advanced technology, in order to give the latest functions and features of such products to its consumers. One of their latest release was the Epson Expression Premium XP-800 Small-in-one back in 2012, a printer which can print images wirelessly. It's that kind of innovations that really made Epson's printers to be unique and satisfactory on its own ways.
Why shop for Epson Printers?
Their printers are tested in terms of quality.
The quality meets affordability of their products.
Epson offers different kinds of printers.
The brand is globally known to produce high tech printers.

Epson Inkjet Printer

Input Capacity: This has a input capacity to print on 50 sheets of A4 plain paper and 10 sheets premium glossy photo paper
Output Capacity: It has an output capacity of 30 sheets of A4 plain paper, and 20 sheets of premium glossy photo paper
DPI: It has a dots per inch of 5769x1440 for the printer and 600x1200 for the scanner
PPM: It can print 27 black prints per minute and 15 colored pages in a minute
Epson Dot Matrix

Print Speed: High speed draft and high speed condensed print speed
Operating System: It operates on a Microsoft Windows 2000, XP, 7, and Microsoft Windows Vista
Print Capacity: It has a print capacity of 347 character per second
Print Direction: It features a Bi-direction with logic seeking print direction
Epson Multifunction Printer

DPI: It has a dots per inch of 5750x1440
Print Speed: It can print 30 papers per minute for black prints and 15 papers per minute for colored print
Scanning Speed: It can scand 2.4 msec per line for black ink scanning and 9.5 msec per line of colored
Interface: It can connect via USB 2.0
Epson All-in-One Printer

Scanner Type: It features a scanner with color flatbed and an auto document feeder
Optical Resolution: It has an optical resolution of 2400 dots per minute
Functions: It can print, copy, and scan
Memory: It has a memory that can store 180 pages