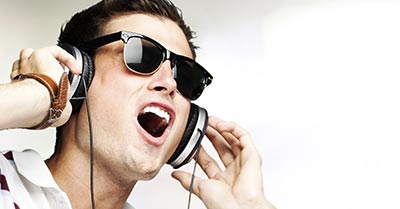 Enhance your PC and Laptop Music with Top Creative Philippines' Speakers
Sometimes, your PC or laptop can be a good source of entertainment. You can watch popular TV shows and movies, listen to your favorite songs, and play games on your trusted computer. Of course, none of these media can be fully appreciated if you do not have a proper speaker complementing your personal media device. Selecting an appropriate speaker or headphones for your computer can be tricky, but leading the sales and marketing of these audio products for computers is the company, Creative.
Creative Philippines Drops Everything for Their Audio Technology For Sale
As its name indicates, Creative Technology Ltd.'s purpose is to create technology to enhance our PC and laptop usage. The company began as a manufacturer of PC accessories and hardware, but slowly focused on the audio devices for PC. The variety of the brand's audio technology includes speakers, surround sound systems, and headsets. These products can enhance not only your listening, but also your viewing and gaming pleasures –accompanying the movies, videos, and games with quality and customizable sounds. Check out the latest of Creative's products and see if this brand can be the most suitable for your PC or laptop.
Why choose Creative?
Creative brings out quality and Hi-Fi sounds from your computer with a trusted Creative speaker system.
Enhance your PC's sound hardware by upgrading its sound card and other internal audio software.
Capable of surround sound, blasting music and sounds from different parts of a room.

Creative headphones

Creati ve Aurvana: The Aurvana series is the brand's flagship models of high quality and high durability headphones. These cans offer both wireless Bluetooth and 3.5mm direct audio jack connections, blasting music from their 50mm neodymium drivers. At 10Hz-25kHz frequency response and 90% active noise cancelling, you can listen to any Hi-Fi music clearly and without any ambient sound.
Creative HITZ-MA headphones: Unlike its premium counterpart, the HITZ-MA series are the more affordable, yet very effective headphones for mobile devices. These on-ear cans maxes out its frequency at around 10Hz-20kHz on its 40mm dynamic drivers. You can connect the headphones to your phone or tablet through a 3.5mm audio jack.
Creative Sound Blaster: This hardcore headset series for gamers pack a lot of punch with the sounds and audio it produces. Underneath its rugged form factor houses 40mm Full Spectrum drivers that help you listen to your game's sound, while communicating with your friends through its built-in mic. The Sound Blaster connects to your PC or console through an audio jack, replaceable with a USB end or wireless dongle.
Creative earphones

Creative HITZ-MA Earphones: Similar to its much larger counterpart, the HITZ-MA earphones are designed to work well for mobile devices. The in-ear devices come with 9mm neodymium drivers, producing sounds from 6Hz-23kHz with 105dB/mW sensitivity. The earphones also come with a built-in mic
Creative HS : The brand's casual earphones for travel. The HS series comes with 6mm drivers, emitting 20Hz-20KHz frequency with noise cancelling technology. This wired earphones use 3.5mm jack to connect to all of your devices
Creative EP: The smallest and affordable earphones of the brand blasts music at 6Hz-23kHz frequency and 106dB/mW sensitivity. The earphones are also designed for sport and normal use.
Creative Speaker system

Creative SBS A550: This six-piece multimedia speaker system and surround sound comprises one base driver and five satellite drivers. This powerful computer speaker can blast music at 40Hz-20kHz and 75dB, connecting the main speaker through a 5.1mm analog jack
Creative MUVO: The MUVO is the brand's portable and wireless speaker system, available in different colors. The speaker connects to your device via Bluetooth 4.0, and can stream music through its 3-inch driver. This device also include a microUSB cable used for charging this wireless device.
Creative T series: The speakers of this series are suited for desktops and laptops with Bluetooth connectivity. The wireless satellite speakers provide surround sound, enhancing your main sound system. These can also pair with your mobile devices.