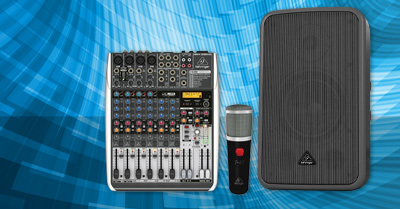 Professional Audio Equipment From Behringer Philippines
The best audio equipment is rare to find as perfecting the production of audio equipment is hard to master. There are tons of brands around that boasts their audio equipment which they say is the real deal. But how would you know if these audio equipment is actually worth your bucks? First, it must be very, very durable and you know that it will be something that you can count on. Second, it produces quality sounds like no other. This means that with these audio equipment, you can hear every single instrument that is played. Behringer can give all that to you.
Creative Audio Experience with Behringer Audio Mixer
Behringer's slogan "We Hear You" says a lot about their company. They hear us in a way that they deliver exactly what we want. Founded by Uli Behringer, a German national, in 1989, it has climbed up to the music ladder as one of the largest music product manufacturers. A German brand, Behringer products are available in over 10 countries and territories and even distributed in 130 countries worldwide. Up to this date, Behringer provides high-quality audio equipment that every music lover can count on. Choose now in our wide range of Behringer products.
Why choose Behringer?
Different audio equipment available for different audio needs
Especially made with the highest quality of audio materials
Globally-known brand and is one of the largest audio equipment producers worldwide



Mixers

Types: Types of mixers are channel mixer, pro mixer, DJ mixer, and audio mixer
Material: These are made of high-quality metal for a sturdy finish
Features: It features aremium ultra-low noise, high headroom analog mixer, balanced main mix outputs with ¼" jack and gold-plated XLR connectors, separate control room, headphones and stereo rec outputs, and rack mount brackets included for ultimate flexibility
Speakers

Types: Available speakers are monitor speakers, power active speakers, commercial sound speaker, and powered speaker
Material: A combination of high-quality metal and plastic are used to create these speakers
Features: These speakers are guaranteed to be super-tough, impact-resistant enclosure with integrated top carry handle, enormous power, incredible sonic performance and super lightweight
Microphones

Types: Available microphones are studio condenser microphone, dynamic microphone, and diaphragm condenser microphone
Material: Say goodbye to cheap materials as these are made with high-quality steel
Features: This can be used as a main microphone and it is also a support microphones for studio and live applications, and it features a cardioid pickup pattern for effective feedback elimination