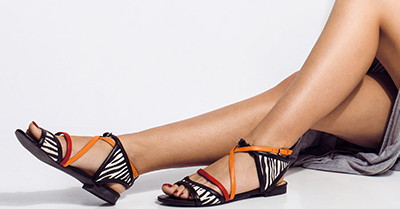 Alberto Creates Quality Footwear for Everyday Use
Since its modest beginning in Greenhills in 1990, this brand has grown into a reputable brand known for its quality footwear. Making use of knowledge and experience gained from a family history of leather goods, the brand boasts of excellent craftsmanship and exquisite design. Driven by the love for shoes, they seek to provide customers with as many options as possible to suit their everyday needs and evolving fashion sense. Their footwear are built to last, and designed to never go out of style.
Alberto Gives the Power of Choice
The brand constantly strives to give their customers the best value for their money with high-grade products at affordable prices. More than that, they seek to serve the varying needs and wants of their diverse customers. The company invests in creating unique and different styles of shoes for men and women that are not only fashionable, but functional and durable as well. They maintain the philosophy that first-class footwear does not need to be expensive or imported. The brand produces different types of shoes to encompass formal wear, casual wear, and sandals. Formal shoes are designed to be versatile enough to suit the work environment as well as ceremonial affairs. Despite the form, they prioritize comfort and flexibility, a feature that is important to the working class. Casual shoes are range from laidback and relaxed forms to smart-casual types. Sandals, made of leather or cork, are intended for both indoor and outdoor wear. Unlike most sandals, theirs are made to exude sophistication despite the otherwise informal form.
Why choose Alberto?
The company is known for its history of leather craftsmanship.
They design and produce diverse products of various designs to cater to different preferences.
The brand has durable, comfortable footwear for formal and casual affairs.

Men's footwear

Business shoes: The brand produces formal shoes for men in the styles of derby shoes and loafers.
Casual shoes: They brand has lightweight, informal loafers, slip-ons, and low-cut and high-cut sneakers.
Sandals: To maintain a sense of smart confidence, these are made with rubber and leather soles, and leather straps.
Women's footwear

Business shoes: Women's formal shoes include strappy and step-in heels for ceremonial events and parties, and loafers and kitten heels for work.
Casual shoes: The brand makes sturdy and comfortable ballet flats.
Sandals: The brand has a wide range of sandals like flat and heeled sandals, and wedge espadrilles. These may either have a rubber or cork soles, and designed leather straps.
Bags: Leather Handbags and tote bags of various sizes and colors are also designed by the company.