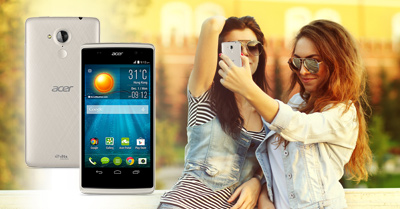 Acer Philippines: The Key to Advanced PC Usage
Today, we've basically got the world in our hands. A single click can take you places you've never been to, meet people you haven't met yet, or simply make our everyday tasks easily and efficiently. With this kind of world, you must have a gadget that will best suit your lifestyle and most especially, caters to most of your needs. It might be a smartphone, a laptop, a tablet or something both and in between, like what Acer has to offer.
What so Amazing with Acer Philippines?
Nowadays, Acer is one of the most trusted brands in the world of technology. They offer a wide range of products such as desktop, laptop, and now smartphones. As early as 2009-2010, the brand snatched the number one spot in Taiwan Global Brand rankings and still on the limelight. Another good thing with this mobile group is that, though they are named as one of the most trusted in terms of gadgets, they continuously come up with fresh ideas on how to make their products more innovative and helpful to people.
It is fascinating that Acer products can help you with all of your tasks, entertain you and connect you to the endless possibilities of the World Wide Web. With variety of their products and its features that suit any ages and lifestyle, plus its simple designs; you'll surely forget how to limit its use.
Why choose Acer?
One of the brands recognized worldwide
Makes affordable and portable devices
Products are top of the line and high quality

Acer Aspire Laptop series

Product Features: The Acer Aspire laptop series is the brand's connective, reliable and portable computers suitable for a variety of uses. Their laptops are often used for school, business, and even casual use, with some even capable of playing games.
General Specifications: Acer makes use of the trademarked Intel processor for all of their laptops. These run on either Windows 8.1 OS, Windows 7 Professional, or the Chrome OS for their Chromebooks. Some of their laptops can also double as tablets with their 360 degree hybrid tech and touchscreen interface.
Models: The Acer Aspire laptops vary among several builds and sizes, some of the laptop series under the brand include theAspire S3, Aspire S7, Aspire V3, Aspire V5, and the Aspire Switch
Acer Liquid smartphones

Product Features: Acer's handy, and durable smartphone series. The Acer Liquid comprises high-end and midrange devices that uses Intel's fast processor. The Acer Liquid is also known for its fluid use and responsive display.
General Specifications: The phones all run Android 4.4 KitKat OS on a 1.3GHz quad-core processor. The phones under the series also make use of OLED displays, making them very HD in design and streaming. The phones have decent memory, and enough capacity to hold Full-HD content.
Models: The Acer Liquid smartphones comprises the midrange and flagship devices on a budget. The Liquid S1, Liquid Jade, and Liquid E series all make up this smartphone line
Acer Iconia Tab

Product Features: The Acer Iconia Tab series serves as the brand's tablet series. While these do not have call facility, these are made up with fast Internet connectivity, very high end specs and a cost-friendly price tag.
General Specifications: The Acer Iconia runs Android OS, on a 1.2GHz processor. The tablets possess 16GB internal storage, expandable via microUSB, 1GB RAM, and fluid LCD resolution similar to the Liquid.
Models: The Acer Iconia A1, Acer Iconia Tab 8, Acer Iconia A, and Acer Iconia A3 maker up the high-end versions of the brand's tablet series. These tablets also vary between screen sizes.